Tauranga's dirty word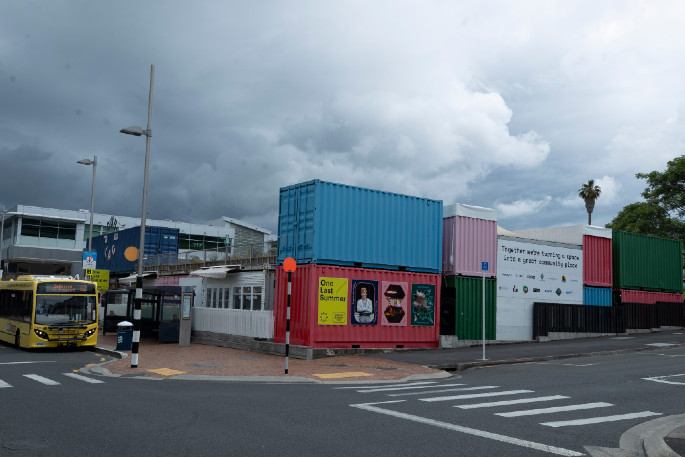 "Since I have been here I have heard people say 'oh don't use that word!' How ridiculous," says Tauranga City Council commissioner Stephen Selwood.
So what is this shocking word Stephen has been advised not to mutter since his arrival as part of the commission in February?
The word is museum. Hardly the breathtaking utterance you might expect, but in Tauranga the word museum has been a cuss word for several years – the building-which-must-not-be-named.
But no more, as the recent Civic Precinct Masterplan refresh – named Te Manawataki o Te Papa - announced by council includes a 2,400m2 museum on the corner of Willow Street and Hamilton Street.
The facility would display the city's taonga and heritage collection which, to Stephen's astonishment, has been stored in a warehouse since 1998.
"It should be on display so we understand our history and where we came from," he says.
"This is a fantastic opportunity and we should grasp it with every hand that we have."
Grasp it he must, as museum plans in Tauranga have a tendency to slip away.
When the current heritage collection went into storage it did so in anticipation of a new museum being in place by 2002. It never happened.
In 2007, a waterfront museum plan was scrapped amid political wrangling and rising costs.
In May 2018, voters rejected the idea of a museum in a referendum held in conjunction with a concurrent by-election, with 59.4 per cent of voters against the idea.
At the time, Tauranga MP Simon Bridges admitted to being disappointed. Three years on, he remains "100 per cent" in support of a museum build, particularly in the heart of the city.
"I have backed a museum in our CBD for many years now and I still do," he says.
"The reason for this is that I have been to see the collection of historical artifacts and treasures in storage, and they need a place for young and old to see them and understand our city's story and have pride in it."
Simon says he is sad to see museums in smaller cities such as Napier, Nelson and New Plymouth, but no such facility in Tauranga.
"A city of our size needs a heart, and that requires significant cultural amenities like a museum to draw people in."
From his own experience of speaking to locals, Simon believes a majority want a museum but acknowledges pushback is possible.
So why has a museum been such a contentious idea? Simon has a simple explanation.
"One word," he says. "Cost."
He believes the burden on the ratepayer can be softened, suggesting money from central government, Bay of Plenty Regional Council and the local business community can ease the load.
"It's actually a bit of a misunderstanding in my view," he explains.
"We don't need a platinum-plated job, and this is where the council has gone wrong in the past.
"I also know that many hands make light work, and it shouldn't be left up to just Tauranga City Council to foot the bill."
Whilst the museum plans, and the overall Civic Precinct refresh, are being widely praised by the likes of Simon and those in the Tauranga business community, opposition is beginning to bubble.
"We just are not sure a museum is currently the highest priority," says Tauranga Ratepayers' Alliance spokesperson Ross Crowley.
"It is a very ambitious project, but there are other things in Tauranga with more importance, such as sorting out the roads and transport issues."
Ross says the TRA is unsure a plan of this significance should be made under the current governance system – with the commission currently sitting in place of elected councillors.
"Our position is that this group of nominated leaders, not contested and aligned to central government, should not be pushing through something like this.
"They need to take into account what people want, not what they think the people of Tauranga should want. That means they have to listen to the people, not just a small collection of those for whom this suits their agenda."
Tauranga City Council commissioner Shadrach Rolleston believes the importance of a museum cannot be understated.
"A museum is a repository where taonga from our past can be safely held for future generations to enjoy," says Shadrach. "But more importantly, it's also a place where we can see and learn about where we've come from and gain important lessons to guide our future.
"Looking around Aotearoa, you would be hard-pressed to find any significant town or city that does not have a museum, so it is a marker of maturity, but also of respect for our past and for the culture of our area."
He says the commission received calls for a museum throughout the Long Term Plan process this year, and he has seen widespread support of the idea so far.
He does, however, anticipate there will be parts of the community who are opposed, as they have been in the past, with concerns over cost and location expected.
"There is interest from others to partner with the council in the delivery of the civic masterplan, however, that needs to translate into funding.
"The commission has directed staff to investigate all funding and financing avenues to deliver the project as a single-stage phased development, including Crown, community and private investment."
Ngāi Tamarāwaho hold the mana whenua for the site, and hapu representative Buddy Mikaere says the idea of a museum has been around for many years. Unfortunately, in his eyes, it has often been used as a political pawn.
"Efforts to establish a museum have been largely led by community members," says Buddy.
"Unfortunately, in more recent times, some local politicians have seen it as a handy whipping boy for their own purposes, deliberately misrepresenting the costs to the ratepayers and using that as an election platform.
"We can see that with the politicians currently absent from the decision making seats, great community ideas like having a museum have been able to progress.
"I applaud that very much."
The epic tale of Tauranga's difficult relationship with the concept of a museum appears to be entering its next, and possibly final, chapter. Buddy is hopeful the conclusion of that story sparks the beginning of sharing Tauranga's.
"We have a great historical record here in Tauranga," he says. "Through the proposed new museum, let's tell it."
More on The Weekend Sun...