Empty skies and businesses as Bay events cancelled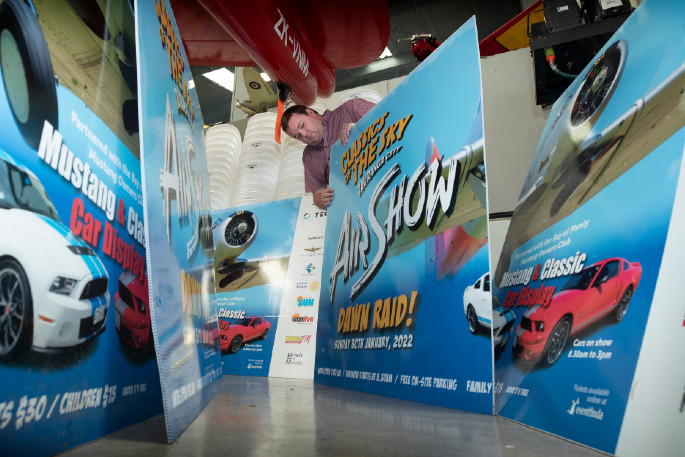 Events around the region have been cancelled or are facing uncertainty with the country now at the red traffic light setting.
As a part of the red setting, gatherings can go ahead with different restrictions depending on the requirement of a vaccine pass. Gatherings are limited to 100 people for events that require a vaccine pass, and for those that don't the limit is 25.
One of the biggest blows is the cancellation of the Classics of the Sky, Tauranga City Air Show, which was due to happen on Sunday.
Organisers were expecting thousands of people to turn out for the aviation event.
Classic Flyers sales and marketing manager Cory Tyler says everyone's gutted, especially as the show is biennial.
"Our last show was just before the pandemic started in January 2020, but we will be coming back in 2024 in another two years to hopefully do another one."
Cory says the air show is too big an event to organise to try and postpone.
Elsewhere in the region, the One Love Festival would have filled Tauranga Domain with around 20,000 people this weekend, but has been postponed until April 2-3.
Festival-goers were set to enjoy two days of reggae, hip-hop, soul and R&B from the likes of L.A.B, Kora, Stan Walker and Katchafire.
"The good news is the full line-up of local artists will move to our new date, as well as one of our internationals, Fiji," says organiser Glenn Meikle.
There is a silver lining to the cancellation of the 2021 National Bridge Congress, as it will now move online enabling players from Australia to take part, says congress organiser Richard Solomon.
The 2021 congress was postponed last September until February this year because of level four lockdown.
Up to 650 people were expected at the event at Mount Maunganui's Bay Park from February 10-17.
"It's not just the competitive side, it's the social side of the congress as well," says Richard. "Obviously we lose some of that online."
The congress will return to Bay Park in October for the 2022 nationals.
Other events are waiting for more advice from government before firming up plans.
Armageddon Expo will likely postpone the Tauranga pop culture exhibition that was planned for February 26-27.
"We'll be making the official announcement on Monday, but it looks like we'll have to postpone the Tauranga Armageddon Expo to later in the year," says founder William Geradts.
"We're gutted, but we understand and fully support the government's decision."
The cancellation and postponement of events has a wide reaching economic impact on the Bay of Plenty.
Accommodation providers are facing large cancellations, and hospitality businesses are required to have guests seated with 100 person limits.
"Hotels are negatively affected by the red setting and Tauranga hotels have seen high levels of cancellations, consistent with other destinations around New Zealand," says Hotel Council Aotearoa strategic director James Doolan.
"Leisure travellers are understandably worried about the risk of being forced to self-isolate away from home if they are caught up in an Omicron cluster."
Restaurant Association CEO Marisa Bidois says: "Large summer events which are now being cancelled bring people into the area who spend money on dining out and other tourism activities, so the loss of these is another blow to local hospitality businesses".
More on The Weekend Sun...