Be a buddy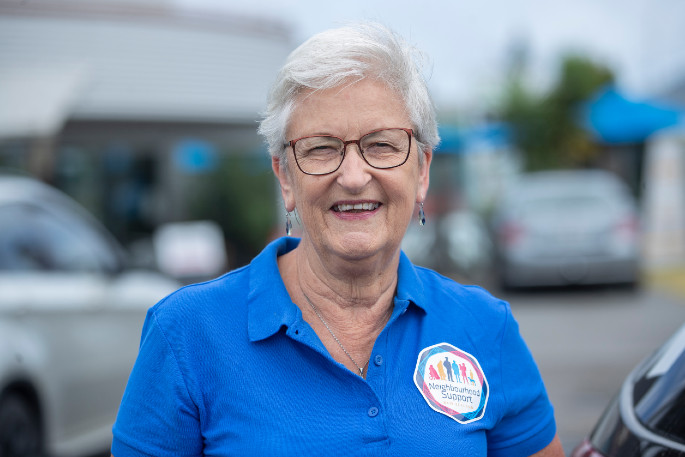 Creating your own buddy system to help people near you prepare for a community outbreak of Omicron is made all the easier by joining a local neighbourhood support group.
Western Bay of Plenty Neighbourhood Support already has 16,000 members living throughout the Tauranga area, including Mount Maunganui, Pāpāmoa and Pukehina.
Omanu Neighbourhood Support coordinator Linda Thompson has some helpful tips for caring for each other.
"Check on your neighbours by knocking on the door if you already know them," says Linda, "but put your mask on first. Drop them a phone call or email them - their details will be on your Neighbourhood Support street list. Now is the time to dig it out and make it work."
Western Bay of Plenty Neighbourhood Support is helping to make sure our communities are looking after each other as people prepare to isolate at home, manage while they're unwell or support others in their whānau, family or street group who may have to isolate.
"Elderly neighbours or family members may be especially nervous about what they're hearing or reading in the news," says Linda. "They're also the most vulnerable if they get sick, so see if you can run some errands or get groceries for them, or show them how to order food online or get medications delivered.
"Have a family plan so you all know what will happen if one or all of you get sick. Most people can recover at home, so work out how to get food and medications.
"Who can help you, especially if you live alone? Have a chat with your neighbours so they know they can call on each other if necessary - especially if they don't have family close by.
"You may need to put a sign on your door to say you are isolating - there are signs to print on the Unite Against Covid-19 website."
It's important to plan for things like looking after pets or watering plants if you have to go to hospital.
Linda encourages everyone to put a wellness kit together now: masks, hand sanitiser, gloves, tissues, cleaning products and items to manage symptoms if you have them too - pain relief, throat lozenges, cough medicine.
"This is the time to come together, support each other and be a good neighbour. Join Neighbourhood Support if you haven't already.
To join Neighbourhood Support visit: www.wbopns.org.nz/joinus
To learn about being prepared go to: www.covid19.govt.nz/prepare-and-stay-safe/be-prepared-for-covid-19
More on The Weekend Sun...