The last card for Tauranga retailer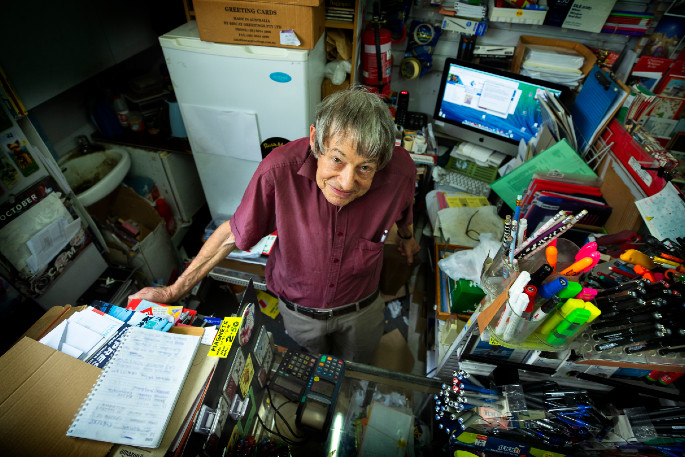 Allen Hickson has sold hundreds of farewell cards over the years. On Saturday he will need to sign his own.
The owner of Piccadilly Greeting Cards in downtown Tauranga is closing down the store for a self-confessed well deserved break.
"I need a good rest," says Allen. "I haven't had a holiday in six years."
The retailer has diligently opened his store at 10am every morning, six days a week, for the past 18 years.
The walls and aisles of Piccadilly Greeting Cards are lined with every type of greeting card available, all lovingly catergorised and neatly arranged.
There are magnets, notebooks, bookmarks, Bibles and even literature thrown in for good measure.
Hidden in the corner of the store is the counter, where you will find Allen, ringing up the next sale on his analogue till and sending another customer on their way laden with stationery.
Although Allen purchased the store 18 years ago, it has been a mainstay in the Piccadilly Arcade on Devonport Road for more than 50 years.
With his wealth of knowledge, Allen says his most popular selling cards are specialised family birthday cards, for grandchildren, children, siblings, aunts and uncles.
Allen has been a retailer for around half-a-century, and previously owned the Sunrise Bookshop in Cherrywood.
Although he's a keen reader, it was the economics of owning a book store that drew Allen to the trade, because there was "a lot of demand for Christian books".
He has a loyal customer base of hundreds of regulars that he says he will miss, but he's looking forward to spending more time with his wife.
On the cards for his retirement is gardening, as there's "plenty to do in his garden at home". He'll also dabble in stamp collecting and playing the guitar.
Surprisingly, the stationer also has penchant for power metal, which he'll have more time to listen to now.
Monika Schaffner, who also owned a business in the arcade, says she and Allen bonded over a shared love of the sub-genre of heavy metal.
"He's so kind," she says. "When you work opposite each other for so long you get to know the person pretty well and you check on each other.
"There's just no shop like it. He'll be missed."
Allen says there's a possibility he'll open another smaller card store in a year, so there's still a chance we'll see him back in business in Tauranga's stationery scene.
More on The Weekend Sun...