Troggs venture out of the cave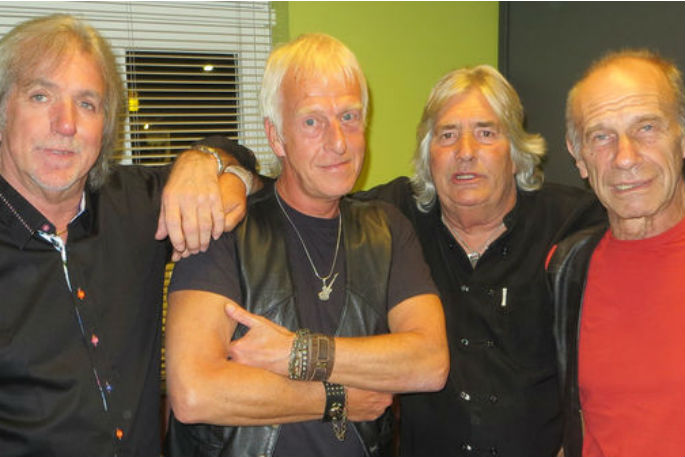 It was an interview with a rock star that was almost derailed by a pint of Alfred's, a pub quiz and a protective publicist.
The Weekend Sun was about to call Troggs' guitarist Chris Britton at home in England to chat about the band's December gig at the Totara Street performance venue at the Mount. But the chat was off, according to the publicist. Unavailable, he was otherwise engaged.
So we ring another number and there's the rock star with his nose immersed in a pint at The Royal Oak, a pub in Goodworth Clatford just off the A303 near Andover in Hampshire. The unavailable rock star was at pub quiz and not so unavailable.
"Oh yes, they serve a very good pint," says affable guitarist Chris Britton. Even this reporter acknowledges a finely crafted English pint is reason enough for being unavailable for an interview.
And yes, the band is looking forward to New Zealand because they have fond memories. "We did an open air gig in Invercargill in 1982." That was either a brave or silly punt for a promoter. And the oysters were superb, he seems to recall.
'The Troggs' is a bastardisation of troglodytes or cave dwellers. "We added an extra 'g' because one 'g' didn't look right."
And out of that very same cave emerged 'Wild Thing'. The simple heavy guitar rifts with flirtatious lyrics. "Wild thing, I think you move me, but I wanna know for sure." Salacious for the time, a time half a century ago when someone even wrote that "teenage lust never sounded so good".
New York songwriter Chip Taylor suspected he had created something "cool, sweaty and sensual" when he wrote 'Wild Thing' but it took The Troggs, four Carnaby clad long-haireds from Andover in Hampshire, to cover it and shape it into a number one on the Billboard Hot 100 in July 1966. The song peaked at number two in England.
"We just cut across what was going on 50 years ago," says Chris, across a pint and down the phone to The Weekend Sun. "All teenagers think they invented sex. We thought we invented it. But it's pretty tame compared with what they chuck out now."
But, says the 72-year-old rocker, anything to cause a bit of a stir and be a bit of a revolutionary. "I am up for it, it's all right by me."
The Troggs take on 'Wild Thing' is ranked number 257 on 'Rolling Stone' magazine's list of the 500 greatest songs of all time. Britton gives himself a pat. "That's very good, well done!"
And they've been banging out 'Wild Thing' for 50 years – aren't we, they, everyone, sick of it? "No, no, no – it's still fun. If we didn't get such an audience response, we would get sick of playing it."
The Troggs was a band that had several disguises, all of which worked.
"For example, you can't put 'Love is All Around' in the same bag as 'Wild Thing'. We had several hits actually and they were all quite varied."
'With a Girl Like You', 'I can't Control Myself', 'Anyway That You Want Me' – and there would be no point Chris coming all the way from The Royal Oak to Totara Street without dusting off the tried and true.
"They want something to latch onto," says Chris. "If you listen to our music, and I suppose there is a bit of music about it, we are more of a sporting event than a music event." Probably a reference to the energy they give out to win over an audience – the room shakes and the bodies start moving. But whether after 50 years they still register on the Richter scale remains to be seen.
And time can damage a band. "Yes, it was very sad when we lost Reg. A great mate." Reg was Reginald Maurice Ball, aka Reg Presley, The Troggs' lead singer and the second most famous Presley of rock and roll.
"And that's the reason we managed to keep going as a band. We aren't in each other's pockets all the time. We got on as blokes and mates." The Troggs also lost their original drummer Ronnie Bond in 1992. But two more troglodytes have emerged from the cave over time; the bones stayed strong, and the band stayed on the road.
The unfortunate events made lead guitarist Chris the oldest bloke in the band – 73 at Christmas. "Old enough to know better and stupid enough to carry on." His Mum is 92, still going strong and still wonders why her son never had a proper job.
"I did, I was in printing, but music was a lot more fun and when you're top of the pops it pays better." And he was an inspiration – inspired the garage and punk sound, The Ramones and Iggy Pop and the like. "So they say and I would be delighted if we did."
The publicity blurb reminds us The Troggs is an R18 event – no intoxicated persons, no sandals or steel cap boots, no dangerous behaviour including crowd surfing, stage diving, moshing of violent dancing.
It doesn't mention mobility scooters or zimmers. I just wanna hear 'Wild Thing' live one last time, have a wonderful thought of who 'Wild Thing' might have been and then home for cocoa.
The Weekend Sun has one double pass to give away to one lucky reader who can tell us where the Troggs take on 'Wild Thing' ranks on the Rolling Stone's list of 500 greatest songs of all time. Enter online here or at www.sunlive.co.nz under the competition section. All entries must be received by Wednesday October 19.
More on The Weekend Sun...