Empowering city residents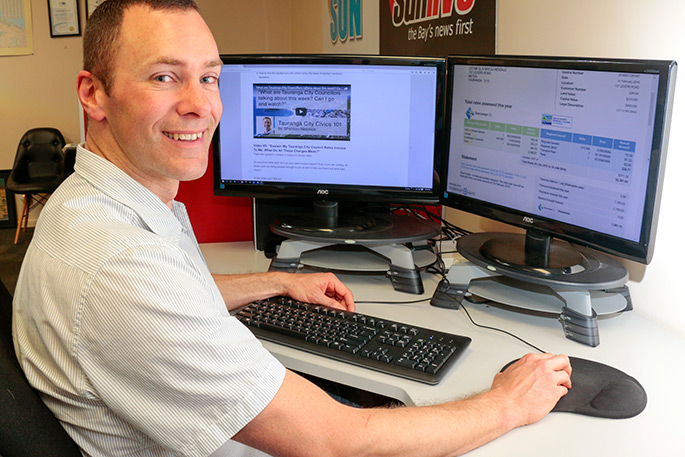 He traipsed around the Otumoetai-Pyes Pa ward visiting more than 4000 households in the local body elections. He didn't win a Tauranga City Council seat – now he's trying to educate residents on how they can get involved and have their say at council. Why?
"It came about because I heard from so many people – and it was frustrating to me – that they didn't bother to vote," says Sheldon Nesdale.
"They'd have the voting documents right there – on the kitchen bench – but there's this feeling that once you pick it up you have to do the research because mostly they are strangers on the list.
"And you really feel like you should know these people before you vote for them. So, they [would-be voters] haven't got enough [knowledge] to tick those boxes."
Sheldon is now using his former campaign website to post videos teaching Tauranga residents about civics, and how to get involved in local government decisions.
"People might not know what civics means – basically, it is the study of government," says Sheldon, who admits he'll run in the next local body elections three years away – and possibly next year's General Election. "Although I'm unsure for which party yet."
So far his five videos cover: how the region's three councils work; what city councillors talk about and how to go and watch them; how rates invoices work; what services rates pay for; and how people can have input into TCC decisions.
The last offering – 'How can I have input into Tauranga City Council decisions' – really strikes a chord with Sheldon.
"I've listed eight ways in which people can do something – from lest effective to most effective."
"Number one is turn up in person. People don't know this, but for every council meeting there is 15 minutes set aside at the start where anybody from the public can talk about anything they like."
"I think that's marvellous – your topic doesn't have to be on the agenda, you just give a few days' notice, turn up, and speak directly to councillors and the mayor all at once and say your thing."
"Often I've heard people's comments come back into discussion later on when councillors are talking about the topic."
So is Sheldon doing this to empower people? Or is he rebuilding his reputation?
"It was frustrating when people complained to me council was out of touch, and it felt so hard to get involved and have a say.
He was also frustrated when the voting statistics come out. "Because people like me go to a huge amount of effort [in campaigning] and then 62 per cent of people don't hand their forms in.
"I think it's because we're all focusing on that three to six week period of elections, where it's all happening, then it's not in anybody's minds anymore.
Sheldon thinks as citizens we should take a bit more interest, "So we have a say."
To take an interest visit www.Iamlistening.co.nz to see Sheldon's videos.
More on The Weekend Sun...