We will remember them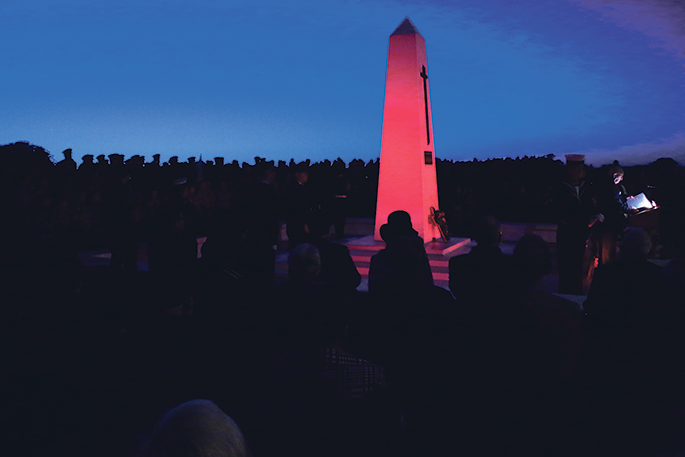 Thousands of Bay of Plenty residents will wake in darkness and head to Anzac parades and services next Tuesday, April 25, to remember those who paid the ultimate price for the freedom we enjoy today.
Anzac Day commemorations will be held around the Western Bay of Plenty from about 6am onwards, to honour the soldiers who fought at Gallipoli 102 years ago but also to pay tribute to servicemen and women who have contributed to the wars and conflicts around the world since World War 1.
This year on April 25, dawn and memorial services will be held in Tauranga, Mount Maunganui, Te Puke, Katikati, Omokoroa, Waihi Beach and Maketu.
Tauranga RSA
The Tauranga RSA's dawn parade will be at the Tauranga RSA cenotaph, at 1237 Cameron Rd, with the service commencing 6am on April 25. Assemble at 5.45am on Hayes Ave, the march off is 5.55am. There is no wet weather contingency plan for this parade.
Memorial Park
The Tauranga Civic Memorial Service starts 9am, April 25, at Memorial Park. Groups wishing to march in the parade please assemble by 8.30am next to the Queen Elizabeth Youth Centre.
A free park and ride service will be available from Tauranga Boys' College to Memorial Park between 8am and 8.40am, with returning buses immediately following the Civic Memorial Service. All park and ride buses are accessible for the mobility impaired.
Carparking will be available at Tauranga Boys' College carpark off Devonport Rd, with marshals on-site to assist people with making their way to buses. No additional parking will be provided at Memorial Park, but Pak'nSave has made their above-ground carpark available.
Carparking for mobility card-holders only will be available outside Queen Elizabeth Youth Centre. Organisations or groups wanting to lay a wreath during the service need to, in advance, email: michaela.blackman@tauranga.govt.nz
In wet weather, the Civic Memorial Service will be held in the Queen Elizabeth Youth Centre. No parade will take place in this instance. See more at: www.tauranga.govt.nz
Mount Maunganui
Mount Maunganui's dawn parade is at the Mount Maunganui Cenotaph. Assemble at Mount Drury Reserve at 5.45am for march off at 5.55am. Service starts 6am.
A free park and ride service for the dawn parade will be available from Kawaka St behind Blake Park to Maunganui Rd behind Mount Drury. Buses will depart from Kawaka St between 5am and 5.50am, returning at the end of the dawn service between 6.15am and 7.30am.
For the 9.30am Memorial Service at Mount Maunganui Cenotaph, assemble at Mount Drury Reserve at 9.15am for the march off at 9.25am.
Road closures will be in place on Marine Parade between Commons and Banks avenues from 5.55am to 7am and from 9.25am to 11am on April 25. In adverse weather, the memorial service will be held at the Mount RSA clubrooms.
Pyes Pa
A remembrance service will be held at Pyes Pa cemetery, 403 Pyes Pa Rd, from 10.30am.
Te Puke
A memorial service at Te Puke War Memorial Hall, at 130 Jellicoe St, starts at 10.30am. Those who want to march from Te Puke Post office can fall in at 10.10am.
Katikati
Katikati's Dawn Service will be at Katikati Memorial Square, Main St, in the centre of town from 6am. Assemble from 5.45am.
The memorial service at Katikati Memorial Square starts 11am. For those wanting to march in the Civic Parade, assemble at Uretara Domain at 10am for a 10.30am march through the main street to Memorial Square. Veterans unable to march the full distance can join in at the Talisman Hotel.
The 11am service will be followed by wreath laying and a refreshments and afternoon of fellowship at Katikati RSA & Citizens Club, corner of Henry Rd and SH2, immediately following the service.
Omokoroa
Omokoroa's dawn service is at Crapp Reserve at 6am, followed by Milo and Anzac biscuits on-site. A community commemoration at Omokoroa Point School starts 11am, followed by wreath-laying at the school flagpole, then a sausage sizzle and refreshments.
Waihi Beach
The Waihi Beach Dawn Service starts 6am at Waihi Beach Memorial RSA, 99 Beach Rd.
Maketu
Maketu's dawn service is 6am at the Village Green, where the An
More on The Weekend Sun...