Toby's plan for the podium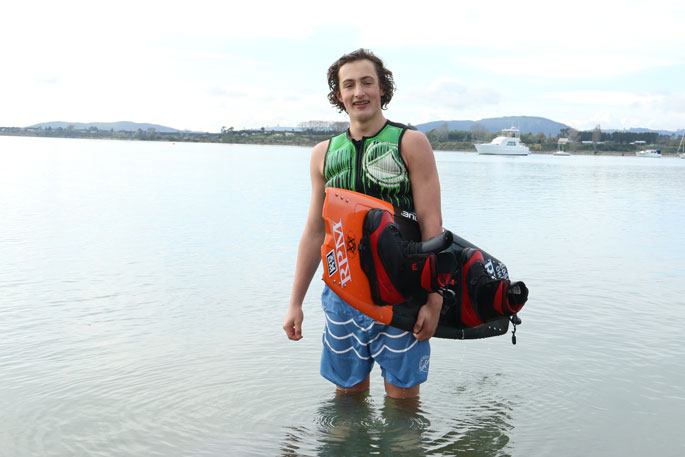 It's four degrees outside and Toby McConnell is pulling on his life jacket and strapping his wakeboard to his feet. The cold doesn't faze him; he just wants to get a ride in.
That's Toby's style. All, or nothing. The Year 11 Tauranga Boys' College student has been selected to represent New Zealand in the junior boys division at the International Waterski and Wakeboard Federation World Wakeboarding Championships 2015 in Cancun, Mexico, on October 27-31. He's not planning just to give it a go – he's got plans for the podium.
"I'm honoured to be chosen for the NZ World's team and I can't wait to head over to Florida with the team for training," says Toby.
"I know I'm very lucky to have this opportunity and I'm giving everything I've got. There's nothing I'd love more than a podium finish for NZ."
What started as a family sport at age seven, wakeboarding has become his future.
Only recently taking up the water sport professionally, Toby says this year's been his best yet as he puts a giant tick next to winning the NZ Wakeboard Nationals for his age group.
"After some specialised coaching in late 2014, I realised there was a chance of winning Nationals in March this year, so I undertook intensive personal training both on and off the boat," says Toby.
"This has helped me overcome some obstacles, both mentally and physically, and has shown in my results."
Toby's spent more than 100 hours training during the season, as well as two trips to Sydney Australia's WakeSchool 'Black Diamond' for individual training in the last 12 months.
He's currently in a winter training programme, including both the lake and gym training to prepare for the World Championships.
He leaves for Florida with his father Shane on October 3 for training, before heading to Mexico, where the teenager will join more than 100 competitors from about 20 countries in the championships.
Back here Tony's next goal is to become an ambassador for the city, promoting international riders to come to NZ.
"There are a couple of professional events in Australia each year and most riders follow the summers and come 'down under' for these events," says Toby.
"I'm sure once they hear about the Bay of Plenty being an adventure playground with a plethora of activities to enjoy and what our nearby lakes and rivers offer, we'll get many more coming to enjoy the riding."
Toby hopes this will have a spin-off effect by promoting wakeboarding nationally; providing NZ boarders contact with the world's best, driving inspiration and technical knowledge within young NZ competitors.
So far, Toby's raised $10,300 for the estimated $15,100 trip. To sponsor Toby, or donate, contact Shane McConnell on 0272664777 or email shane.mcconnell@gjgardner.co.nz
More on The Weekend Sun...