Top tennis in Tauranga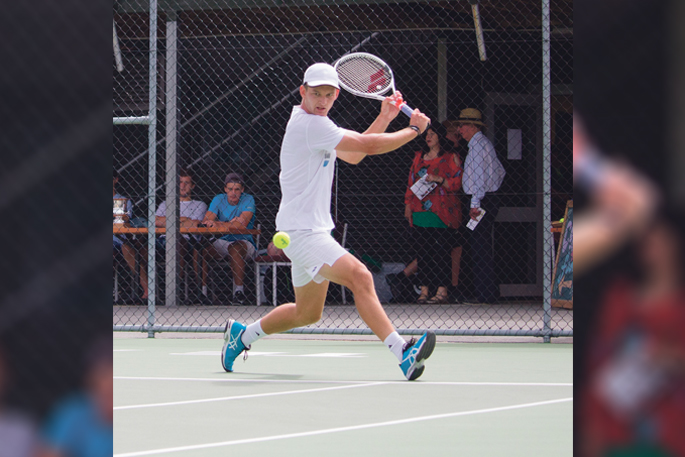 Click the image above to view slideshow
Western Bay of Plenty residents have a unique opportunity to watch fast-paced, action-packed tennis from some high profile Kiwi players, including top males clashing female counterparts – something rarely seen in regular singles tournaments – in Tauranga this weekend. And for free.
In its fourth month, Mount Maunganui Tennis Club's Sunday Shootout is back on January 7 – offering a unisex, one-set tennis competition that has 16 single players compete during a three-hour period for $1000.
Sunday Shootout creator and ex-touring pro Jason Helms says the tournament has seen world-ranked players enter, as well as rising junior players and ex-pros, bringing top tennis to the provincial crowd.
This Sunday's tournament at the Mount Club starting at 3.30pm has attracted the Reynold brothers, Finn and Rob Reynolds. Finn's highest 2017 world junior ranking was 83. And the brothers were runners-up in the nail-biting final in last month's New Zealand Residentials, says Jason.
"We are thrilled to have the Reynold brothers come to our tournament, both are excellent players. Finn, who turns 18 this week, is a left-handed player and was runner up in the Australian Open Juniors in 2017. He is NZ's next big tennis star."
Jason says this tournament is important for the sport because it draws spectators to the club and they get to experience tennis culture, which is very social, supportive and health-focused. "They also get inspired, as they watch such high level tennis, and the vibe rubs off, because it is fun, fast and fancy tennis!"
So it's a doorway to stimulating much-needed club tennis memberships, says Jason. Memberships in Kiwi tennis clubs are on the decline, but the Mount club is bucking this trend with 27 per cent growth in 2017.
His goal was to create the effect on tennis that T20 has had on cricket. "Traditional competition tennis can go up to five sets, often taking hours to finish and people are just too busy these days to regularly watch games for that long."
Jason says top players are signing up for the Mount competition because they like the fast-paced nature of the competition and it's not too hard on their bodies.
"Audiences are delighted to watch top women players hitting up against top male players – something you never ever see in regular singles tennis tournaments.
It also provides the players with fantastic match practice and they get to play on our new courts," says Jason, who was coached by Bobbi Riggs and famously played against Billie Jean King.
He also played college tennis in the United States in the 1990s under the coaching of Guy Fritz, father and coach of Taylor Fitz.
Jason says he couldn't have held the Sunday Shootout without local sponsors, who are passionate about tennis – most of them are premier tennis players.
The Sunday Shootout is on January 7 from 3.30-6.30pm at Mount Maunganui Tennis Club. Spectator entry is free, with a bar open and Sal's pizza for gold coin donation. For more information, see: www.sundayshootout.co.nz
More on The Weekend Sun...