Working up a head of steam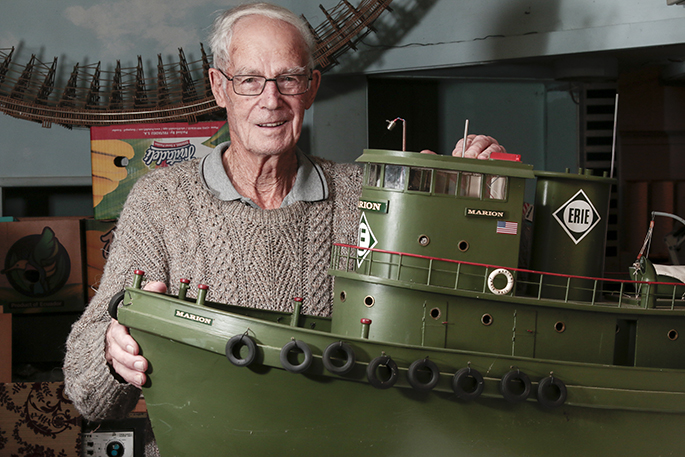 "It is a thing of great beauty," explains Lloyd Breckon. That's why he was happy to commit 30 of his 83-years – a good chunk of his life – to building one.
The "thing of great beauty" is a scale model Britannia class locomotive – an icon of steam, one of the most versatile locos of the British Rail fleet capable of working express passenger trains to more menial freight work.
Now, after three decades, a three-and-a-half inch scale model of the Britannia sits in Lloyd's workshop, with every last detail of engineering, machining, lathe work and welding painstakingly carried out by the enthusiast.
"A lot of people might look at something and think that's interesting and then walk off," says Lloyd, "but in my case, it just grabs me and I am overtaken by the urge to build one."
Lloyd is one of two men recently honoured by the Tauranga Model Marine and Engineering Club at Memorial Park. He's been made a life member after serving the club since 1988.
The other is Ron Salisbury, who just turned 90 and is also a new life member. After 30 years in the club he will no longer have to pay his subs. That's a perk. "It tells me I am appreciated." He's down the club driving miniature trains pretty much every weekend. "It's the fellowship," he explains. "Yes it's the trains of course, but it's also that connection with people who appreciate what we do."
And at the club, it's a fellowship forged with the energy of steam. Lloyd was an engineer and ran a business involving water pumps, hydraulics and irrigation. "Things were really starting to move with the kiwifruit industry."
The other was a builder turned woodwork teacher - two men from very different spheres but drawn together by a love of machines and steam – the force that transforms an inanimate object like a loco into a puffing, hissing, heaving beast and captures the hearts and minds of men.
"Unlike electrical and internal combustion engines, you can see what's going on," explains Lloyd Breckon.
When Ron started with the TMMEC there was one train and 100 rides on a good day. Now there are four trains running and 120-130 rides. "That's the difference."
Ron's passion started when he was a kid. His father was a builder and so Ron made a working model of his Dad's concrete mixer. He lived by the rail track in Upper Hutt so the smoke, soot and steam worked its way into his veins. It was all pre-destined.
And after school, when kids were out playing sport and doing kid's stuff, Ron Salisbury pottered around doing odd jobs at the railway workshop. "I just liked spending time with the railway people," says Ron. And he still does, with the like-minded people at the Tauranga Model Marine and Engineering Club's miniature railway at Memorial Park.
Ron's got his own Hutt Railway Workshop in his backyard – a big shed jam packed with a lifetime's fascination with modelling – trains, boats, planes, the works. An obsessive clutter representing an extraordinary commitment of time, money and enthusiasm.
In the meantime Lloyd Breckon had been tempted along to a meeting of the TMMEC with just enough money in his pocket to pay a sub. A short time later he got the opportunity to buy "The Evening Star" – a 5-inch gauge 2-10-0. "The two means a two-wheel bogey in the front, the ten means ten driving wheels and the 0 means no trailing bogey." It wasn't just a working model of a steam train it was a "beautiful engine." He doesn't like talking money, but it was thousands.
He has since made the Britannia – that took him 30 years, "although I haven't had it steaming." And he's also made a traction engine which has taken him more than seven years. Fascinations take time.
"I just get a thing about something, and then get overtaken by the desire to build it.
"I reckon young people should give it a go, they'd get hooked on it," says Ron.
The Tauranga Model Marine and Engineering Club owns and operates the miniature railway for the public every Sunday, weather permitting, from 10am-4pm, at Memorial Park, Tauranga, behind QE2 Hall.
More on The Weekend Sun...