Hindu statues arrive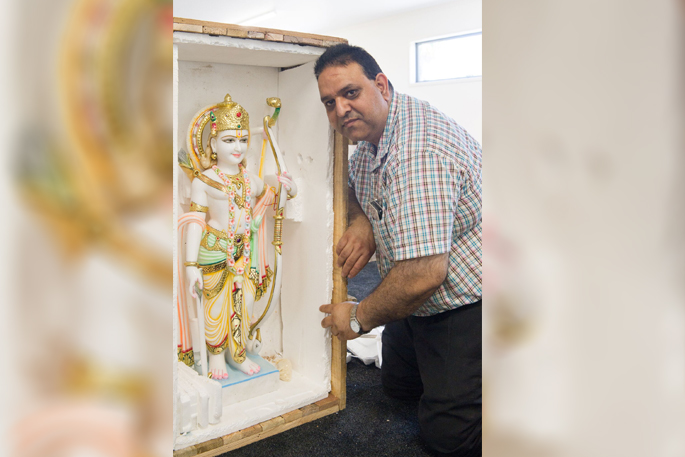 A dozen or more statues of the Hindu pantheon of gods and goddesses are awaiting their ceremonial installation in Tauranga's first Hindu temple at an event set down for three days in February.
Currently in their shipping crates, the painted marble statues' installation will mark the culmination of a project that has stretched the resources of the Sanat Dharam Trust, which bought land for the temple on Whiore Avenue in 2012.
The trust originally used a double garage on site for community gatherings, but was able to begin using the temple's facilities over the winter of 2017.
The ceremonies, from February 9-11, are known as Murti Sthapana and Prana Pratishta. The first one means placing the sacred image, while the second translates as establishing the breath.
"At the moment they are just statues," says trust spokesman Kuldip Kumar.
They have to unpack them before the statues are bathed and anointed and a priest is brought in from Auckland for the occasion to say the mantras and invite the gods and goddesses into the temple.
The statue of Lakshmana, Rama's younger brother, awaits the installation. Photo: Nikki South.
It is a ceremony that can be understood in two ways - either as an agreement between the Diety and the congregation, where the Deity agrees to descend into the image and the congregation agrees to care for the Deity in a form of service. The ceremony is then the bringing and awakening of the Deity within the image.
A second view is that the ceremony's purpose is to awaken the minds of the participants. As the Deity is all-pervading and omni-present, the idea of establishing the breath of the Deity in the image is impossible. The real installation takes place in the hearts and minds of the participants.
Murti Sthapana can be a lengthy process, says Kuldip. There are a dozen or more statues to be installed and each has a mantra to open the eyes, open the ears, and so on.
Some temples have more statues, some less.
"We have all the main gods. From time to time they were all on earth, but not all at the same time."
Lord Rama's time on earth was different from that of Lord Krisha, says Kuldip, and the difference was over thousands and thousands of years.
"It is the same god coming at different times."
Hindu is the oldest religion in India - a faith that pre-dates Buddhism, Jainism, the Sikhs and the Hare Krishnas. It does not have a human founder.
Kuldip says having a local temple is vital to their religion.
"Once we have a temple we can tell the new generation about our religion. Once we have a priest there, everyone can get together and the priest can explain."
More on The Weekend Sun...