Best beaches in the country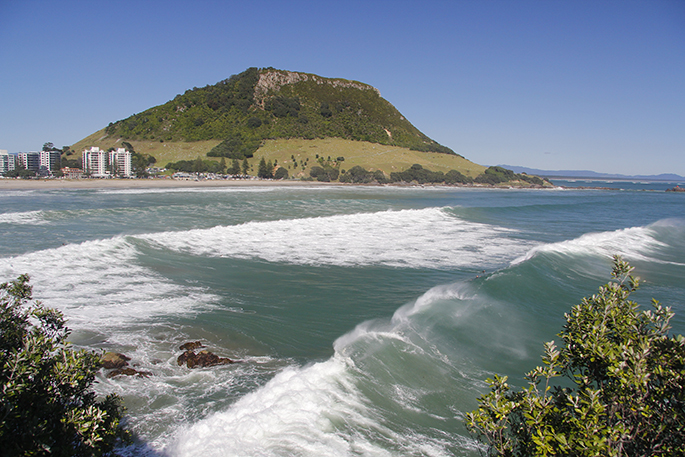 Click the image above to view slideshow
When you think 'Bay of Plenty', beaches is one of the first things that springs to mind.
Thousands of people flock to Mount Maunganui and Papamoa beaches every summer to swim, surf, kayak, fish, build sandcastles, play beach cricket and volleyball, and soak up the sun (hopefully!)
According to the TripAdvisor 2017 Travellers' Choice Awards, Mount Maunganui Beach topped the poll for best beach in New Zealand for the fourth time in a row, with Papamoa Beach coming in at number 10. Mount Maunganui was also named as one of the Top 5 beaches in the South Pacific.
The jewel in the crown at Mount Maunganui is the mountain itself. There's nothing quite like standing at the top of Mauao taking in the breath-taking views along the Bay of Plenty coastline, across the harbour to Tauranga and the Kaimai Ranges.
There are several tracks to the summit, which require a reasonable level of fitness and aren't suitable for strollers. If you're not too keen on going up, you can always go around. The base track is a relatively easy 45-minute walk, although recent slips have meant a section of the track has been replaced by stairs which are not suitable for strollers either.
If you're lucky you might spot some seals lazing in the sun, or a pod of orca whales swimming by.
If swimming in the surf doesn't take your fancy you can take a dip in the calmer waters of Pilot Bay. It is also a great spot to watch the cruise ships sail in and out. Last summer thousands of people brought along picnic dinners and lined the shore to watch the Ovation of the Seas depart, the largest cruise ship to ever visit New Zealand.
Mount Maunganui is also home to one of the few remaining beachfront campgrounds in New Zealand and a hot salt-water pool complex.
If you fancy a trip across to neighbouring Matakana Island you can jump on the Kewpie Harbour Cruise that leaves from Pilot Wharf and spend a few hours on the beach there before the ferry returns. The cruise also provides an opportunity to get up close to the ships in the Port of Tauranga.
Mount Maunganui is also home to some fantastic restaurants and bars – about 60 all up – and some impressive boutique shopping.
Spectacular coastal views are on offer at the summit of the Papamoa Hills.
Papamoa, once simply a laid-back holiday destination, is now the largest suburb of Tauranga and growing.
If you're not lucky enough to live here there are plenty of holiday accommodation options, including camping and holiday parks, motels, bed and breakfasts and private holiday homes.
The beach is a bit more laid-back than neighbouring Mount Maunganui and you can find wooden 'toy libraries' dotted along the beach with beach toys for the kids to borrow if you've forgotten your own.
Like Mount Maunganui, there are plenty of cafes, restaurants and fast food outlets and you can buy yummy artisan street food at 'Dinner in the Domain' at the Papamoa Domain on Thursday nights between November and March.
If you're wanting to get away from the beach you can take a walk up the nearby Papamoa Hills. The regional park re-opened in June after it was closed for several months for a pine harvest operation on its lower slopes.
For those who remember walking through a forest to get to the summit it may seem a little bare, but the upside is you can now enjoy the coastal views on your way to the top.
If you're looking for a bit of thrill-seeking you could try a wind-powered go-kart or an electric drift kart at the Blokart Recreation Park on Parton Road. The activities are suitable for people eight years and older and the facility is open 10am-4.30pm over summer school holidays.
There is also an off-road electric motorbike park on-site for children aged 4-12 years.
So whether you're a beach-goer that prefers sunning with the crowds at Mount Maunganui or chilling out at Papamoa, our local beaches have got you covered.
More on The Weekend Sun...