Bonding over birds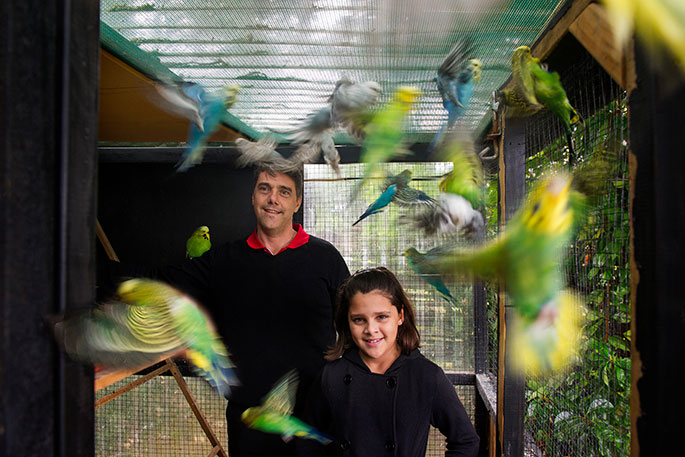 Deon Vanniekerk has always had birds as pets in his life, but started breeding budgies late last year as a bonding activity with his 8-year-old daughter.
Starting with a few fledglings, the Tauranga residents have hand-bred more than 45 blue and green budgies ready to be perched on show at the Tauranga Bird Club show this weekend.
"It's quite an enjoyable experience for my daughter to see the eggs and the babies hatch and then, with great anticipation, as they moult their baby feathers, seeing what colours they are going to be," says Deon.
The budgies that are specifically bred for show are called English Exhibition Budgies, which are two times the size of regular budgies, have longer fluffier feathers, and much more pronounced markings.
"Three of the birds that we have chosen to show have been specifically bred for their unique variety ¬– the Texas Clearbody."
He says one of the most prominent features of a Texas Clearbody is its colour and size. They have diluted chest and throat markings with the colour getting progressively darker around the legs.
"The Texas Clearbody variety are fairly rare within New Zealand because they are quite challenging to breed and were neglected by breeders in the past where people bred them with the wrong types and so the variety didn't stay pure.
"We have bred these with the intension to try and revive the variety back into New Zealand by continuing to select birds that will breed their prominent features."
Deon says it is better to buy birds before they are breeding and plan certain breeding partners for them than buy birds at the end of their breeding stages.
"If you buy exhibition birds during their breeding stage, the people who are selling them will be selling them later on in their breeding stage, so you will end up buying a bird that someone considers past its sell-by date in terms of breeding successful chicks."
Deon says the judges will be looking at a few different features, including feathers, colouring, shape, the bird's overall size and health, and the way the bird displays itself when it sits in the show cage.
"You could have two birds sitting next to each other where one bird is far superior to the other bird but acts like a clown and sits on the floor, or rolls around on its back, and another one that is not that good look-wise sitting up and looking relaxed. The second-best bird will end up winning purely based on its behaviour.
"So the breeder not only needs to worry about the look and health of the bird, but also train it to sit in the cage and be comfortable."
Each bird will be put in a category based on its colour – green, blue, and greys, yellow and white –and then from each category one bird will be chosen to compete against other coloured varieties to find the ultimate winner.
The Tauranga Bird Club's annual bird show will be held May 5-6 at Mount Sports Centre on Maunganui Road. Tickets cost $3 for adults, $2 for children or $10 per family.
More on The Weekend Sun...