Laying it on the line for junior football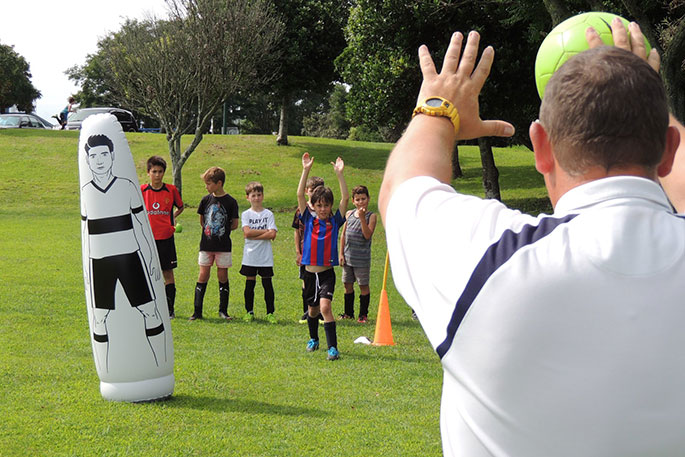 As the winter sports season gets underway The Weekend Sun speaks to one of the hundreds of local volunteers who help make children's sport possible in the Western Bay of Plenty each year.
It may not involve a lot of running but it's the most specialised position on the football field and not one for the faint-hearted.
The role of goalkeeper often means putting your body on the line – literally – to prevent the opposition ball going into the net.
Brett Gander, 53, has been playing goalie since he was a child and coaching others in the role in the Western Bay of Plenty since he was a 16-year-old playing for Otumoetai Football Club.
"There was nothing available for goalkeepers around that time. The only available resources were videos posted by American universities on the internet. I was downloading from there and reading up on it.
He is largely self-taught but recently completed a Goalkeeping Level 1 course.
"My hero growing up was Ray Clemence [Liverpool]. Watching your heroes is always a good thing too."
Brett started off coaching three or four children at Otumoetai and then extended his coaching sessions to the Katikati Football Club on Sunday mornings. "I had about 40 kids turning up at one stage."
When Brett's children started playing football at Waipuna Football Club he coached both here and at Blue Rovers Football Club.
This weekend he will starting his annual free junior goalkeeper clinics at Waipuna Park.
"It try to make myself accessible to anyone and everyone. It's not just for Waipuna members, but anybody who turns up.
"I've got a few kids now who've been to my sessions who want to come along and assist with the coaching so hopefully that will develop more coaching as well."
Brett played a few seasons for Tauranga City in his heyday but hung up his boots several years ago.
"Basically my knees are shot after several injuries through my career. Now I do [coaching] for the love of the sport. The feedback you get from the kids is phenomenal. It's great to see kids taking it on and progressing and doing well with it."
Brett says he always has a focus on safety first with his goalkeeper training.
"I try to teach them safety aspects first so they don't get hurt. If you teach them good habits they have more fun and make more saves, and their confidence grows.
"After having specialist training we've seen a few kids go through to reps and beyond which has been really cool to see."
Waipuna Football Club president Ben Shirley says Brett is an "amazing" asset to the club.
"It's not easy to get kids that age into a goal, and when you do they often decide it's not that much fun. Brett's training makes it special."
Brett has also helped the club make the transition to a new committee this year.
"Brett knows the history of the club and knows people in the local scene. It's so important to have that ear. Brett is amazing and his work with the kids is absolutely fantastic."
Brett's free junior goalkeeper clinics are suitable for ninth grade players onwards and start this Sunday, May 6 from 9-11am at Waipuna Park, continuing until Sunday, May 20.
Mini and junior grade football starts this weekend. Anyone interested in playing football at Waipuna Football Club can contact the club on email: waipunafc@gmail.com
More on The Weekend Sun...