Sign-singing flash mob celebrates NZSL Week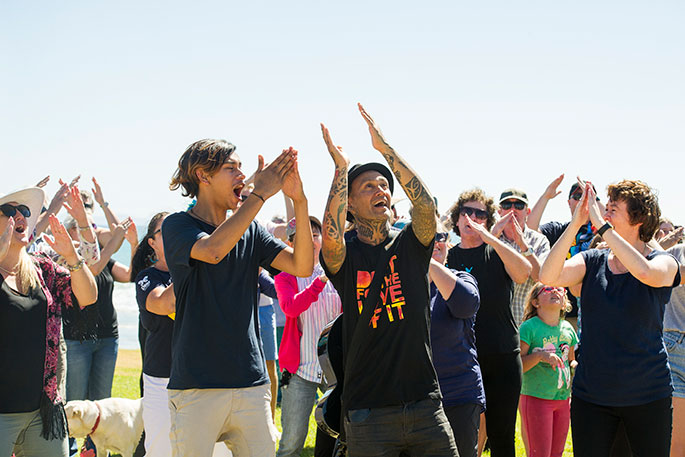 A commercial featuring a sign-singing version of Bay of Plenty musician Tiki Taane's song 'There's No Place Like Home' will feature on television and online next week to mark New Zealand Sign Language Week.
New Zealand Sign Language is the language of New Zealand's Deaf community and an official language of New Zealand.
This year NZSL Week runs from May 7-13 and will include a commercial made from a flash mob event held in Wellington, Mount Maunganui and Christchurch in March. Participants in Mount Maunganui joined Tiki in person to sign-sing his latest song.
Sign-singing or karaoke signing has become a popular way for deaf people to express feeling and feel the music through their bodies without hearing it.
Deaf Aotearoa staff will be joining the Lions Market at the Historic Village on 17th Avenue on Sunday, May 6 from 8am-1pm with a prize draw for people who can finger spell their name and guess how many lollies are in the jar.
Free taster classes in NZSL are being held throughout the country next week. In Tauranga there is a class on Tuesday, May 8 from 12-12.45pm at the Historic Village school house.
There will also be a free NZSL quiz night at the Historic Village school house on Friday, May 11 from 6.30-8.30pm. A NZSL interpreter and refreshments will be provided.
Register for the quiz night by Friday, May 4 and the taster class by Monday, May 7 to Sue Lessing, text: 021 952 675, email: sue.lessing@deaf.org.nz
If you're keen to learn to sign-sing Tiki's song visit: deaf.org.nz/nzsl-flashmob-2018
More on The Weekend Sun...