Alley cats adopt airs and graces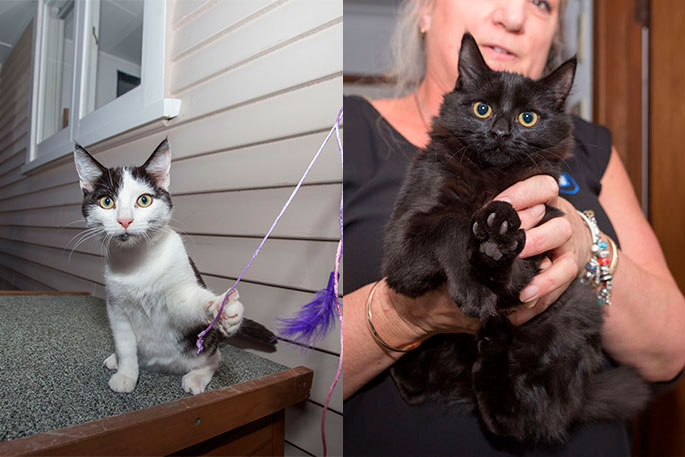 From being waifs and little fur ball ragamuffins one week, to show ponies the next.
Show cats, actually.
But either way, Gabby and Mazikeen have fallen on their feet, as cats do, and they have certainly used up a couple of lives.
They were feral cats, born of dubious parentage out the back of a manufacturing shed in Mount Maunganui. But next month, these rescue kittens, fostered by Wild Whiskers Tauranga, will feature at the 16th Geyserland Cat Club All Breeds Show at Greerton Hall.
"The black and white one, Gabby, was discovered on top of a pallet with a littermate," says foster mum Michelle Harland. The mother cat was probably moving the two-and-a-half week old kittens to another nest.
"The black one, Mazikeen, was discovered a week later at the same site crawling over the driveway. She was in very real danger of being squashed by a truck."
Then Michelle and the cavalry arrived – Wild Whiskers Tauranga. They fostered Gabby and Mazikeen who've now grown into "beautiful" five-month-old kittens. Both have been adopted by a Greerton woman who has agreed to show them at the Geyserland Cat Club Show.
Now that's a turn-around in fortunes – from alley cats to mother's little angels. They'll compete in the contest for domestic cats – cats that have no known pedigree, cats of dubious parentage.
Domestic cats like Gabby and Mazikeen are judged differently to the flash cats like pedigree longhairs and shorthairs.
"That's because there's no standard to judge to," says club/show secretary Dianne LeBas. "But judges look for good temperament, good grooming, well fed and healthy cats.
"We want people to enter their domestic cats," adds Michelle. "We want some competition for Gabby and Mazikeen."
And if either of those two hoi polloi cats are named as supreme domestic cat, they will compete for the supreme overall exhibit against all the flash pedigree and companion cats.
Entries for both the domestic and pedigree sections close on May 25. Entry forms and the schedule are on the NZ Cat Fancy website (NZCF), in the 'Shows' section. There will be some printed copies available at Barkes Corner Vets, or from club secretary Dianne LeBas on: 07 823-2656/021 784 425 or: di_steve@xtra.co.nz
The Geyserland Cat Club All Breeds show is at Greerton Hall on Sunday, June 10. The hall will be open to the public from 12.30pm until approximately 3.30pm, when the Supreme Exhibits of the day will be announced. Admission charge is $5 for adults, $3 for children (5-11 years) and entry is free for under-fives.
Wild Whiskers Tauranga will be at the cat show and is always looking for foster families for their kittens. They can be reached on Facebook.
It is a not-for-profit group of volunteers who rehabilitate true stays and wild kittens aged eight-weeks-old and younger. Once it's clear they will become loving family pets, they're desexed, vaccinated, microchipped and put up for adoption.
More on The Weekend Sun...