When a kingdom is a caravan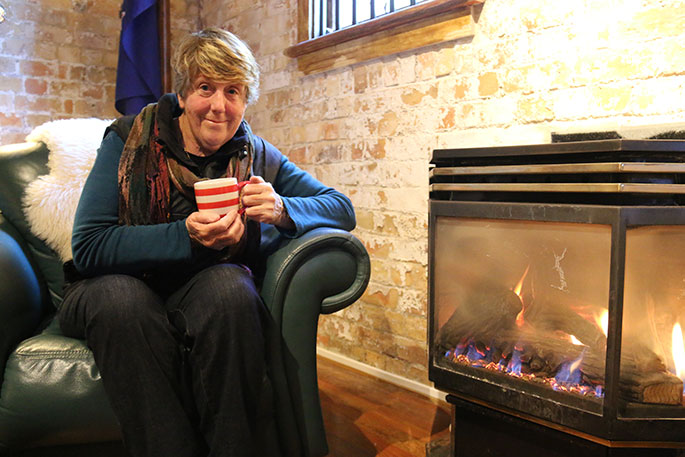 Lyn Haines is an unfortunate statistic and a Housing New Zealand priority.
She's been subsisting in "a tin can" as she calls it - a 3.3 square metre caravan in a holiday park while waiting for a state house.
And this "priority" has been waiting a full two years.
"Every now and again, Housing NZ will ring to remind me I am a priority," says Lyn. "Then they always ask if my circumstances have changed?" She laughs and tells them no, she hasn't met a rich man, and no, she hasn't won Lotto.
"I try to be cheerful and hope things will change," she says, "but often weeks and months go by and nothing changes. And I don't know how, in the scheme of things, that it ever will."
The statistics will feed her fears. There are 7,890 New Zealanders on the public housing waiting list as of March 2018. That's up from 6,182 three months earlier. One in every 100 New Zealanders is homeless – the worst homeless rate in the OECD.
And the Salvation Army is talking about a new class of "working poor" – families with young children driven into homelessness and poverty by soaring house prices and rental costs. They say four-in-ten families living in poverty are "working poor", in that one person in the household is in full-time work.
However, Tauranga Labour MP, Jan Tinetti, can see some light. "Labour campaigned on 1,000 extra state houses a year – and we got 1,600 in this budget," she says.
Tauranga is extremely short of social housing, and the MP says that nationwide, state houses make up around five percent of the total housing stock. It's just two percent in Tauranga. "So this city has a really good case to get a significant share of the housing stock promised by the government," says Jan. "That's very positive."
Lyn Haines is shown a news headline about a Tauranga family of eight, including premature twin babies, being emergency-housed in a motel. It makes her emotional and angry.
"Why is this happening in New Zealand?" asks the woman of faith. "It's 2018 for God's sake. I feel so helpless for them." She has her own dire circumstances, but this family's predicament, she says, makes her own situation seem insignificant.
Lyn Haines got on the phone to Jan Tinetti's Tauranga office and insisted the MP do something. This week she learned the homeless family had been moved into transitional accommodation – a three bedroomed home – while more appropriate long term accommodation is found. Lyn has nothing, but is batting for others
She is not a carper, not a serial complainer, "and I am not bitter and resentful despite my circumstances," says the caravan dweller. "I am quite a positive person and I try to turn every adverse situation into something positive."
That's why she would prefer to be seen as an advocate for the homeless, a voice for those who are silent. And so Lyn Haines, at 70 and living in "a tin can", offers her own solutions to the insidious growth of homelessness.
"There needs to be a realistic living wage," she says. "I am not talking about a minimum working wage, but a minimum living wage – don't leave the poor, homeless and disadvantaged out of the equation.
"People need to be able to pay the rent, or homelessness is inevitable. Do we want tent cities?"
Rental prices, says Lyn, need to be aligned to the property on offer, not the market. "And also aligned to the ability of people to pay."
She also suggests the rental industry needs to be more strictly regulated to protect the tenant, and properties should have "a warrant of fitness".
"Okay, the government's got something going with a requirement for heat pumps, insulation and fire alarms. But it needs to go further," she says. "They need to step it up so there is a scale of rental prices appropriate to improvements."
Lyn Haines lost her job during the global financial crisis of 2008. "Since then I have coped when a lot of people couldn't." The benefit was her only option, and after paying rent she had just $24 a week to live on.
So she bought her "tin can", which freed up a portion of her superannuation for emergencies when they arise – "like car bills, doctors, dentists, looking after me, making sure I am fed properly," she says.
And if she ever feels like a bottle of wine, she tells herself that $10 could also buy her some fresh fish, some mince and some vegetables. The choice is no choice.
She's aware of the attitude that we're all responsible for our own circumstances.
"Well, I went through a divorce," she explains. "I was on my own, but I went back to work and retrained, mainly in retail or library work. It wasn't highly paid, and the savings weren't big enough to plan 20 or 30 years ahead to retirement. It's just circumstances. I am not complaining - this is what life has dealt me."
And she copes cheerfully.
In the meantime this Housing New Zealand "priority" is banking on Housing Minister Phil Twyford delivering on his promise to reduce the public housing waitlist. "I am holding out for a state house - yes I am."
But if Phil Twyford can't deliver, then she has someone else in her corner. "Yes, I am a believer."
Tonight Lyn will go to bed thinking about Housing NZ and also thinking tomorrow might be the day. "And I wake up with the same thought."
More on The Weekend Sun...