Robert's ode to Te Puke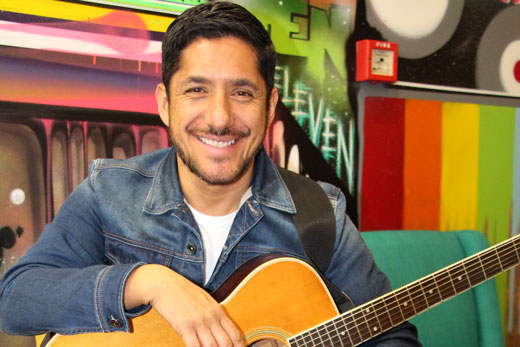 Robert Rakete had been to Te Puke just once – and that was about 25 years ago as a schoolboy.
But the genial Auckland radio jock, and now honorary Brown Wiggle, obviously had an intuitive sense of the town which inspired his prize-winning new anthem for Te Puke.
"If you wanna take my hand I can take you for a whirl/To a place where the sun and the hills unfurl…" So the defining lyrics go.
There he was last Friday evening, an Auckland interloper on stage at Jubilee Park, in the hub of the fruit bowl where Goodness Grows, banging away on his guitar and immortalising, romanticising a chunk of what used to be SH2.
The verse ends, "It's a place we call Te Puke" with, according to one of the judges, a "country-ish, summery, breezy melody."
"I made a mess of my performance," Robert explained to The Weekend Sun after coming off air one day this week. "I told everyone I could sing a little and I could play a guitar a little. But I couldn't do them both at the same time."
Fortunately for him, it wasn't about the man or the performance, who he was or where he was from. It was about whether they had a "strong song". And they knew they did.
Because sometime before Robert had even entered the song contest, Tim Finn, arguably our most iconic and celebrated singer-songwriter, was a guest on Robert's breakfast radio show.
His side-kick, Anna Thomas, asked Tim to cast an eye over the lyrics. He would know if a song works. Tim declared, "That's it – you have just got to find the emotion in the area, paint a picture with your words. You have got it."
"That's exactly what I tried to do," says Robert. "But it was nice hearing it from him."
They weren't to know but the Te Puke Highway Song Contest was probably won there and then, in the Auckland studios of The Breeze that Friday morning.
But where's the connection? Robert used to visit his aunty in Greerton as a child and he can't remember his one and only visit to the town. He's hardly an ambassador, but now he's singing a celebration of Te Puke and 9km of blacktop leading right into town.
"We read about the song contest online. Anna dropped it on me live on-air so I had to write a song."
'Here in Te Puke' was conceived of some online research, whereas songs are normally fuelled by personal feelings, encounters and experiences.
But that enduring image of the sun and hills unfurling hooked the judges. "That captures Te Puke, it is a true reflection of the town," says judge Simon Elton.
To start the judging process, all entries were blind tested. They listened to the melodies and scanned the lyrics without knowing who the entrants were.
"That eliminated any preconceptions about who we were dealing with rather than what we were dealing with," says Simon.
Robert hardly has a songwriter's pedigree. His first and last offering was a kid's ditty when he was drafted as a Brown Wiggle.
"Take a tiki tour in the big red car/ Keep your eyes open for the grumpy taniwha."
It's gone global on DVD and YouTube – more than quarter of a million viewers. That surprises Robert because he thought only Kiwi kids would relate.
He's captured hearts and minds of kids, and now the cultured ears of three prominent local musos, the judges of the Te Puke Highway song contest.
"The nice thing is," says Simon, "I can still hear Robert's melody in my head. It is still there. It is not something that is heard once and then is gone."
Simon says it's an inviting song – inviting you to come to Te Puke and enjoy the place. It fulfilled the only two pre-requisites of the competition: Te Puke Highway had to be a component of the lyrics as did the strapline 'Te Puke Goodness Grows Here.'
Perhaps some of Robert's inspiration came from co-host Anna whose roots are in the Bay. She was aboard Whakatane's 1XX for a time and radio here in Tauranga, before moving on to TV and radio in Auckland.
Most of the 40 entries in the song contest managed to reflect Te Puke to a degree, but the heavy metal and rap genres didn't quite lend themselves.
When Robert was invited to perform his song in Te Puke last Friday, he and Anna decided to road trip it.
"That's the wonderful thing about stories like this. Some places you just grab a sandwich and move on. This gives you a reason to stop and appreciate."
The radio man was enchanted by the main street Te Puke florist, who was giving a flower arranging demo outside his shop. He and Anna joined the half-dozen onlookers.
"That was the sort of emotion we were looking for. We learnt a lot. The only time people in Auckland gather like that is when someone is injured."
If there was a criticism of Robert's composition it was the duration: At 1 minute 56 seconds, it's hardly an opus of 'MacArthur Park' proportions. So Robert's back composing, adding another verse, adding substance to 'Here in Te Puke', so it'll get air time and Te Puke will get the exposure.
"The song contest created a whole lot of goodwill and good feeling," says Mark Boyle of the Te Puke Economic Development Group. "We've got a song, a highway, an identity and it's all feel-good stuff."
For his part, Robert's also got his song contest prize: two airline tickets to visit Route 66 – another stretch of highway which in these parts exists in the shadow of Te Puke Highway.
"C'mon and cheer, cos fun is near, it's such a happy affair/For you we care, so don't despair, 'cos Te Puke – Goodness Grows Here."
More on The Weekend Sun...