Pillar of Hawea Street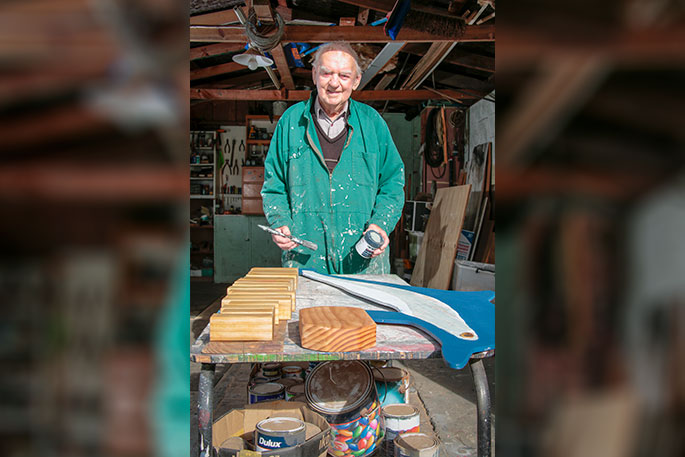 When Noel Kelly's garage doors open up, he's open for business. For more than 10 years, Noel has said he is going to retire, but he still keeps working.
Described as the "pillar of Hawea Street", Noel, soon to be 94, has provided help to Arataki Kindergarten for 40 years, doing odd jobs from mowing their lawns and fixing their toy karts to providing the children with regular fruit from his garden.
"Everyone knows Noel," says Arataki Kindergarten's Andi Peat. "He's very humble and he's always ready to help out.
"Up until he had a heart attack two or three years ago, he was a lot more involved and would be fixing things and working with the children."
'If it ain't broke, don't fix it' is Noel's mentality, and one the kindergarten muchly appreciates.
"He's very good about sustainability," says Andi, "which is one of our big things at the kindergarten, so instead of throwing things out and going out and buying new things, he just fixes them for us."
Noel says he enjoys doing small things to help out and often gets little challenges left by this garage door.
"I'm not a tradesman," says Noel, "but when I semi-retired I started doing handyman work and helped out at the RSA, so I have a few bits and bobs.
"I'm a bit sorry I sold my lawn mower - I regret having to give it up, but age catches up on you, so now one of the teacher's sons mows the lawns and I tell him what to do," he jokes.
The exchange isn't just one way, and the school also brings him vegetables from their garden and celebrate his birthday every year.
He says for his 90th birthday they bought him a birthday cake shaped like a tool box.
"When it's my birthday I try to dodge it," he says, "but they sit me down and all the kids sing Happy Birthday to me."
Arataki Kindergarten will have their 40th anniversary celebration for the community on June 23. At 9am there will be a Powhiri, where local iwi and MPs will speak. There will also be a gala from 11am-2pm at Arataki Kindergarten at 31 Hawea St.
"It's all thanks to people like Noel in the community that we have been able to keep going for 40 years," says Andi.
More on The Weekend Sun...