Ridding our backyards of rats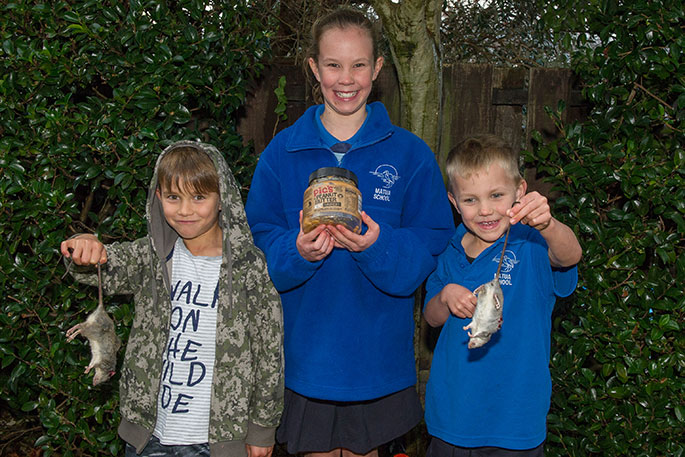 If you think you don't have rats in your backyard, think again, says Matua's James Fitzgerald.
"People often say they don't have a rat problem," says James, "but if you've got a patch of grass out back then you will have a problem. Rats come out at night, so because we don't see the problem we think we don't have a problem."
James and his family are doing their bit to make New Zealand predator free by 2050 by trapping rats in their Matua backyard.
They've been doing it for the past four years, but have recently joined Predator Free Bay of Plenty, which launched in Tauranga in February.
About 140 people are trapping rats in their backyards in Matua, and the free traps are now finding their way into Merivale. Kills are logged on a national website at: www.trap.nz
The Predator Free Bay of Plenty campaign is a collaboration between Envirohub Bay of Plenty, the Bay of Plenty Regional Council, Tauranga City Council, Western Bay of Plenty District Council and the Bay Conservation Alliance.
Funding is for two pilot projects in Matua and Merivale at the moment, but it is hoped the project will eventually be rolled out Bay of Plenty-wide.
The wooden rat traps are made by the Men's Shed in the Historic Village, and the Tauranga and Sunrise Rotary Clubs assemble them for distribution.
Predator Free Bay of Plenty coordinator Emma Woods says the enthusiasm for the project is growing, and there are now youth groups and schools involved in building the traps as well.
The number of kills being recorded is also growing, she says, and people with their own rat traps are welcome to join in and log their kills too.
Rat trapping is a family affair in the Fitzgerald household. As well as dad James, mum Erin is the supplier of peanut butter, daughter Holly, 10, is the record taker and sons Max, 7, and Ben, 5, collect up the dead rats for disposal.
At just a year old, twins Jonty and Beau are a bit young to get involved, but it's likely they will.
The Fitzgeralds certainly aren't squeamish, which is just as well because they catch about 20 rats a year, as well as plenty of hedgehogs, which also eat birds' eggs and chicks.
"It's really easy," says James. "It's just like fishing except you don't eat what you catch.
"It's a bit of a game trying to work out where they hang out and where they like to travel for food. Once you understand that, it's about always having fresh bait in the trap."
The Fitzgeralds have upgraded from the standard wooden trap to a high-tech trap that kills the rats humanely with a blast of carbon dioxide before resetting itself.
James says he's always had an interest in rat-trapping from a conservation perspective.
"We need to remove these pests from our natural environment and give nature a chance to get back to how it was.
"If New Zealand can get behind it and make the country predator free by 2050, suddenly we're this incredible country on the other side of the world that's restored its ecosystem and leads the world in environmentalism."
James says it is interesting to note that not many rats were caught during the feijoa season when the fruit was plentiful on the ground.
"That's indicative that the rats were eating the feijoas and not taking the bait in the traps. It just shows how many rats are running around under our fruit trees on top of the fruit that ends up in our fruit bowls."
More on The Weekend Sun...