Loans granted for Tauranga infrastructure upgrade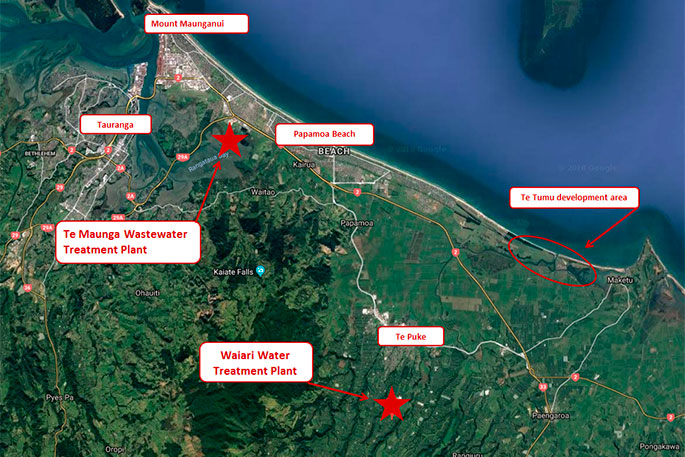 A high demand for housing in Tauranga and a desire to avoid the housing crisis that has plagued Auckland has seen $158 million of government loans granted to Tauranga City Council to support major infrastructure projects.
The funding was announced by the previous government last year but has now been finalised.
Minister of Housing and Urban Development Phil Twyford confirmed the 10-year interest-free loans while visiting the city on Wednesday.
The loans from the $1 billion Housing Infrastructure Fund will be used for upgrades of the Te Maunga Wastewater Treatment Plant and a new Waiari Water Treatment Plant to provide water and wastewater capacity for an additional 35,000 houses.
"While there has been a big focus on the housing crisis in Auckland, there are also issues needing to be addressed in high growth areas like Tauranga," said Phil. "Its population is expected to continue to grow and demand for housing is already high.
"Tauranga City Council is keen to accelerate housing developments, and funding towards infrastructure to support such developments will go a long way to ease pressures on councils."
Further funding announcements on Tauranga infrastructure projects, including the greenfield development at Te Tumu on the eastern end of Papamoa and Tauriko West, are expected in coming months once business cases are evaluated and approved.
The $1 billion HIF will enable at least 28,000 new dwellings in high growth areas of New Zealand to be built over the next 10 years.
Tauranga Deputy Mayor Kelvin Clout says the granting of the loans to TCC is "fantastic news".
"As a growing city we need to invest in this sort of infrastructure and any way that the council can receive funding for these projects the better.
"It's not a straight-out grant – it would be nice if it was – but it is an interest-free loan so there will be some significant savings on our interest bill. That should flow through to the cost of building new houses and infill housing within the city."
More on The Weekend Sun...