Spotlight on the Bay's animals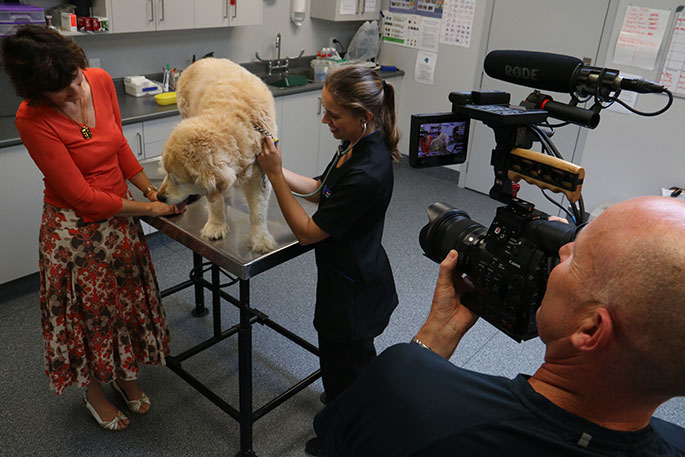 A llama gets an infection in its feet from flies or a dog swallows an entire pack of Voltaren – and Tauranga's Paul Griffin has the camera rolling.
These are the kinds of scenarios filmed on Tauranga Vets' new reality TV show set to be broadcast on TV One later this year.
"I went out with some lamas the other day that was entertaining," says Paul, who is director of photography for the series.
"What the animal was doing was kicking things with its feet, which damaged its foot and developed some infection, so it needing sorting out. I've never seen anything like that before and the vet hadn't either."
Filmed by Paul's company One Person Crew alongside Tauranga Vets, the reality series will follow up close and personal human interest encounters.
Tauranga Vets large animal veterinarian Marcus Allan will feature on stories about larger animals, while Holly Rabone will care for the smaller companion animals.
"It's just an exciting opportunity to share the lives of the vet and the things that they're exposed to," says Paul. "Holly's a 24-year-old graduate and on a daily basis I see her deal with bringing life to some puppies one minute and 20 minutes later distraught parents of a dog that needs to be put down.
"You can see the tears in her eyes and the extremes of emotions the veterinarians have to deal with that a lot of people don't see.
"It's [the series] not really doing process stories of vaccinations, or spaying where the public already know what happens. It's more like stories where maybe a dog's been hit by a weedeater, possibly a sickness or injury, typically stories when the outcome is not known when the animal is brought in."
The Tauranga cameraman has been working in the film industry for more than 10 years, and has been involved in reality television programmes including 'Dog Squad', 'Life Flight' and 'Road Cops'.
"I really like it. Most of the shows I work on, things happen really quickly and you might only spend 10-15 minutes on a story and you never see that person again – and often they don't really want you to be there.
"But working with the vets and these sorts of stories, the clients are invested in it; they love the animals, and they really want to be on TV. It's been really nice."
Paul's says the Bay of Plenty beauty has been captured in a lot of beautiful scenery shots as well. "Almost all my work has been out of Tauranga so it's been really nice to do something here in the Bay.
"And it's nice to be working with animals. I really enjoy animals."
Paul has four "ratbag" jack russells at home. "There's a good chance they may star in the show somewhere along the line because we're always in and out of the vets with one thing or another.
"We had the mum and she had some puppies and they were so cute we ended up keeping all of them." Fair enough. "They're also very naughty because they're Jack Russells."
Tauranga Vets marketing manager Joanne Hill says filming will work by seeking human interest stories customers are keen to share.
"When people come in with something we think that will be interesting to the public, then Paul will come in and talk to them and explain what we're doing.
"This morning we had a dog that came in and he'd swallowed a whole lot of Voltaren."
Joanne expects the series will be filmed in 10 episodes on Saturday or Sunday afternoons. She hopes the series, which has not yet had its title confirmed, will be both educational and intriguing for viewers.
"There's such large pet ownership in NZ and I'm hoping it's something that lots of people can relate to.
"It's lovely to have a local show making it to TV. It's a real opportunity to put little old Tauranga on the map."
Joanne hopes the reality television series will go international.
View the original 'teaser' episodes here.
More on The Weekend Sun...