Say my name, right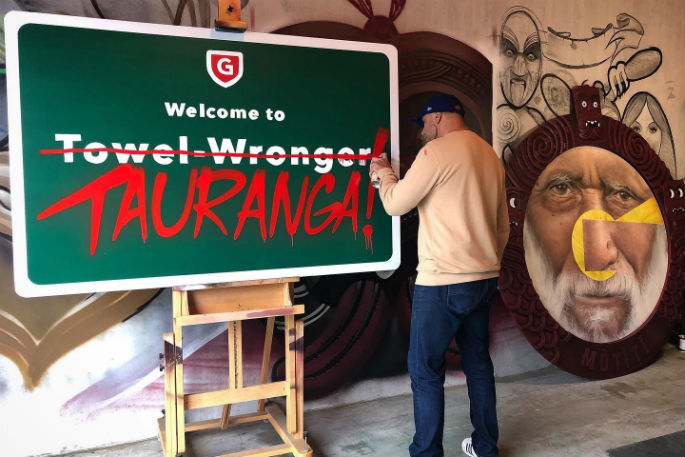 Tauranga artist Graham Hoete is encouraging residents to start using the right pronunciation in his new tongue-in-cheek art piece.
"It's just putting the challenge out there to the people of Tauranga, to the ones who call this place home, to pronounce it correctly," says Graham.
"It's a bit of a no brainer – if you are proud of your hometown, at least say it correctly."
Graham says it's essential to deliver the message in a positive light to get engagement from the community.
"I can use my art as a change agent to apply some positive pressure.
"It's about doing it in a way where it's not having a go at anyone, but representing the idea in a clear but tongue-in-cheek style which a lot of people will engage with.
"It's about approach when it comes to this kind of topic. Art enables you to represent ideas through a different frame, where people can actually end up supporting it."
He says the response to his new work so far has been 99 per cent positive.
Facebook posts of the new art piece have been receiving hundreds of likes and comments from enthusiastic users.
Graham hopes the effects of his artwork will roll out across Aotearoa, encouraging people from all over the country to pronounce Māori place names correctly.
"I am hoping Tauranga can become an example for other cities to do the same. If we can do that it will be an awesome thing for New Zealand."
The artwork ties in with the upcoming Māori Language Week which runs from September 9-15 nationwide.
Next month Graham will be providing helpful advice on te reo Māori pronunciation on Facebook.
"I'll be bringing some highly practical posts interviewing te reo experts on providing helpful tips and solutions everyone can apply to their te reo Māori journey."
He will also be hiding two smaller versions of this sign throughout Tauranga for the public to find.
For more information about Graham's work visit www.mrghoeteart.com or search 'Mr G Hoete Art' on Facebook.
More on The Weekend Sun...