Mel's ready to smash it!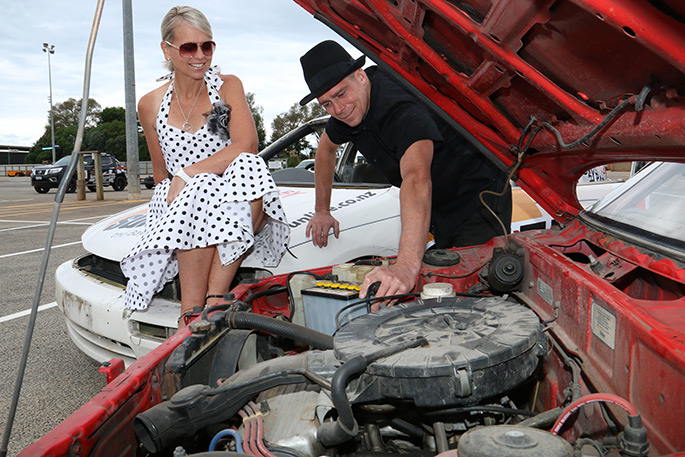 Melanie Stone shoves the gear box into first gear, puts her foot down, and the engine roars into life.
"Yeah baby, bring it on," the SunMedia finance manager shouts as she tests out the SunLive Demo Derby car in ASB Baypark's pit area.
It's the first time she's been behind the wheel of a manual since age 15. "And I didn't stall," says a proud Melanie.
She's dressed in a pretty black and white polka dot dress for the vintage-themed photo shoot with The Weekend Sun's photographer Tracy Hardy to promote the SunLive Baypark Speedway Demolition Derby.
But a frock and heels won't be the outfit Melanie chooses for the big event at ASB Baypark on April 9.
Come Saturday no more Mrs Nice, this lady is ready to rumble and she means business. What kind of car is she driving?
"A manual Mazda Familia sedan, 1600cc," states Melanie with a few more revs to the engine. She knows her stuff. As she smiles for the camera, Melanie tells us she's had a taste for racing before.
"I was lucky enough to test drive a stock car." Derby experience or not, she's got one up fellow competitor Damien Morgan who's never stepped foot in a stock car before. "I haven't done anything like this before, but I've always wanted to."
Damien is one of the official Rock Demolitions Derby Drivers after winning The Rock FM's radio competition.
"I was in it last year and I didn't win," admits the 33-year-old. "So I thought this must be my year." So now he's in, what are his tactics? "I don't know, just full speed and waste everyone."
The event is open to anyone with a current driver's licence and anyone who doesn't have access to a car can go and see him – and he'll make sure there's one available for hire on the night.
The entry fee for drivers competing with their own car is $200, or $500 for drivers who wish to hire a car.
Plus the last driver standing will win $2000, while he or she who wreaks the most havoc – or is the most entertaining – will be awarded $1000.
The SunLive Baypark Speedway Demolition Derby is on April 9 at ASB Baypark.
Gates open 5pm, racing starts 6.30pm. Tickets are available from www.bayparkspeedway.co.nz, at ASB Baypark and at the gate.
Entry forms for the derby are available online at www.bayparkspeedway.co.nz, at Flamecrusher in Gate Pa, or at the merchandise hub at ASB Baypark.
More on The Weekend Sun...