Riders relish games challenge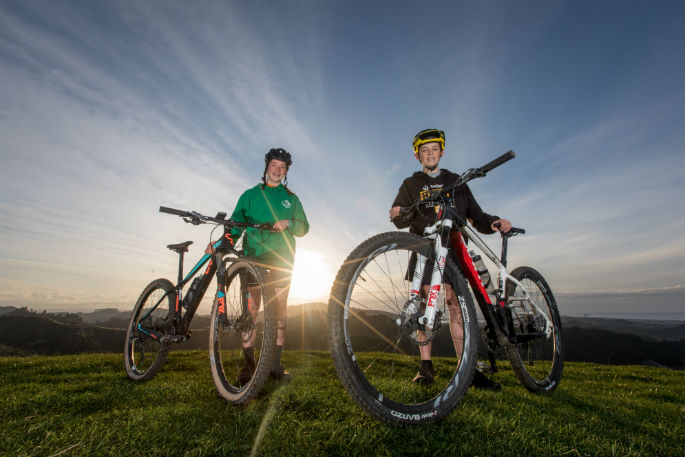 Harry Kneebone and Poppy Lane aren't worried about spring squalls or downpours at next week's Anchor AIMS Games - in fact, their message is "bring it on".
But then, the mud-mangling, berm-bashing madcap mountain bikers would say that, as they prepare for their code's debut at the annual intermediate-aged tournament in Tauranga.
Mountain biking is set to be the 23rd sport introduced to the games, after years of campaigning, with Summerhill Trails in the Papamoa Hills hosting the event.
For 13-year-old Tauranga Intermediate student Harry and fellow Mount Maunganui Intermediate star Poppy, it's a dream come true to compete in the tournament in their favourite sport.
"I'm sort of hoping it will rain because it will make it a lot more fun and it's better for me personally," Harry explained. "I like riding in wet weather more than dry conditions and it makes it more of a challenge. There haven't been heaps and heaps of races like this for us - there were a few little local races, then the North Island champs and nationals - so having AIMS Games is really cool. There's a lot of excitement around school about the tournament and we just can't wait to get out there!"
Poppy's been riding almost since before she could walk. Dad Hamish - a former top mountain biker and multisporter - got her into it from a young age, although it's in the past three years that she's really taken it seriously.
"There aren't quite as many girls in mountain biking at the moment but it's getting better and I've really enjoyed the racing," Poppy said, adding that local endurance star - and AIMS Games mountain biking coordinator - Tristan Haycock has had a big influence.
"Tristan has been teaching me all sorts of skills and really focusing on strength and fitness as we build up to AIMS, while Paul Riordan and the Tauranga Mountain Biking Club have done a great job developing the course up here. It's going to be so much fun!"
Poppy, 13, will also be playing football for her Mount Intermediate team, while Harry has got an even busier schedule - he's down to compete in canoe slalom and sprint, multisport and mountain biking over the course of the week.
The pair are two of more than 11,500 entries at the tournament, which starts on Sunday with cross country, sailing and the opening ceremony.
Mountain biking's debut is nothing short of spectacular, with nearly 200 riders from around the country signing up to race.
More on The Weekend Sun...