The clash of the cultures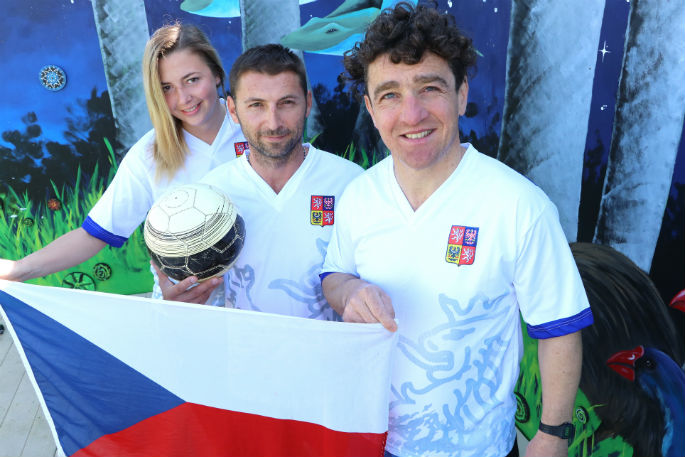 The Czech Republic has confirmed. Five times World Cup champions Brazil will also be represented. They're confirmed.
As will India, Nepal, Vietnam, China, Pacific Islands and Korea. It's Tauranga's answer to the World Cup – it's called 'Ethkick' where local ethnic communities put their best players on the pitch for a down scaled world cup – smaller mixed teams, smaller fields and shorter games.
"It's a fantastic example of using sport as a tool to break down language and cultural barriers," says Anna Kerewaro, president of Multicultural Tauranga. "It also helps celebrate the cultural diversity of our city."
Captain of the Czech Republic, Jindrich Hahn – aka Henry because Kiwis struggle to get their tongue around Jindrich - only has to come in from Paengaroa rather than Prague to play in the tournament at Tauranga Boys College on Saturday, September 28.
"The Czech population in Tauranga is only 40 or 50 people and mainly families," says Henry, a two year professional footballer in his home country. "So it's difficult to pull a team together. The Czech team will have a couple of Kiwi ring-ins as the rules dictate teams need only a core of four ethnic players in the squad of eight."
Henry also turned out for Tauranga City, Otago, Hamilton Wandererds and also had a couple of seasons under controversial coach, Kevin Fallon. He has an abiding respect for the man. "People have mixed feelings about him. But I really adored him, one of the best coaches I have played under."
When Henry left the Czech Republic with girlfriend Monica several years ago he gave her three destination options – Israel, USA or New Zealand. As a schoolboy with a bent for geography, he was always fascinated by a small country on the other side of the globe. And that's where they ended up and had a family.
He was a cabinet maker but now works outdoors in the kiwifruit industry.
"The tournament holds a special place for me," says Henry. "I always wanted to travel, experience different places, food and culture. I can feel that spirit at this tournament. Except the people and their cultures come here, come to me, and I can still feel the spirit."
Then there are traditional and historic rivalries between some national teams. "Politics are put aside on the field," says Henry. "But off the field we can talk politics. And we do, but we don't let it take away from the fun of playing soccer."
Some teams, suggests Henry, are different physically and mentally. "Like the South African and Chile and Argentina. Because they are hard and tough."
It is all about pride. "We may be new Kiwis but we are also very proud of our Czech heritage" says Dana Dunford, who assists the Czech team. "When we get out on the field we are playing for the republic. We are also very passionate about sport and especially soccer. The guys are very competitive and want to win for Czech."
Meanwhile time is running out for registrations for the Ethkick Football Tournament which is supported by New Zealand Police and Blue Rovers Football Club. Mixed teams are also eligible to participate with a minimum age of 16. Womens' teams are also welcome to register.
This year Ethkick will be held alongside the New to the Bay Expo 2019. Its aim is to welcome newcomers to Tauranga and help them access services and activities for a positive and successful settlement in the community.
For more information and to register, phone: 07 571 6419 or email: enquiries@trmc.co.nz
More on The Weekend Sun...