A proud moment – Sally in full song on the famous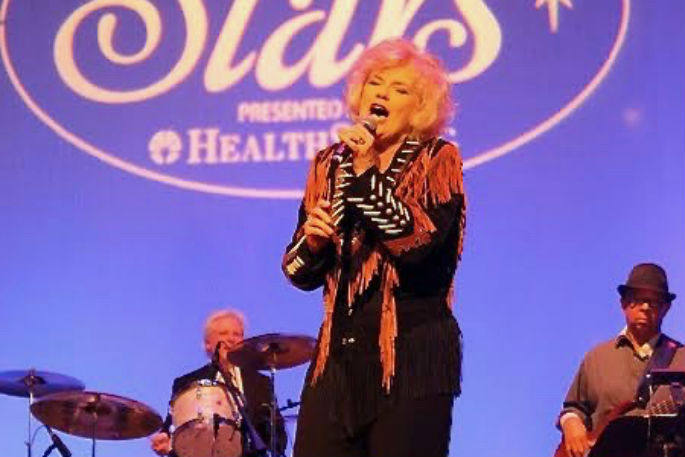 Sally Burgess is one of the country's most accomplished and successful country music exports.
Okay, she is an Aussie by birth, but she did all her best work in New Zealand and won the New Zealand Country Music Entertainer of the Year in 1988.
It set her up for a 25-year career in the world capital of country music in Nashville, Tennessee. And she's grateful.
"I have happily used this title to get on some great stages, like the Grand Ole Opry, a stage most singers never get to sing on," says Sally Burgess. "I also got to experience all sorts of other great singing gigs because the title gave me credence. I would not be where I am today musically without the NZCMA."
Sally's talking up the award because not only has it has served her well, but also because the New Zealand Country Music Association celebrates its 40th Entertainer of the Year anniversary in Tauranga at the Hotel Armitage next Friday, October 3.
And she will be there. And so expect to see some other well-known New Zealand country singers like Marian Burns "Beautiful soldier so handsome and young...", Dennis Marsh of "Have a Maori Hangi Tonight" fame, who's lauded as New Zealand's best-selling country music artist and Camille Tenahu who's also domiciled in Nashville.
The anniversary will be followed on Saturday night, October 5, by the country music Entertainer of the Year show at Baycourt. "People who love good music would really enjoy coming to this event," says Sally.
When Sally won the Country Music Entertainer of the Yearm she also won Songwriter of the Year – it's never been done before or since. Sally was also named Country Music Recording Industry Awards 'New Female Vocalist'.
She currently holds the titles of 2006 International Female Vocalist, International Entertainer, and with co-writer Nigel Lee, also won the North American Country Music Association's Best International Bluegrass Song for 2006.
Sally Burgess was an established singer in New Zealand before it was suggested she check out the local country music club. "My first visit blew me away. I was surprised to find it was a club that supplied a country music band to back anyone who would get up and sing. The encouragement and the talent was amazing."
And because the country music clubs hold music competitions, it encourages people sharpen their skills in an effort to win. "I soon had my sights set on the biggest prize of them all which was the NZ Country Music Entertainer of the Year." The rest is history.
She has toured New Zealand, Norfolk Island and Australia, singing at festivals, doing radio and television interviews promoting her CDs recorded in Nashville. Life is very busy. But then, that is how she likes it.
While Sally Burgess spent most of her early life in New Zealand accruing the equivalent of two nursing degrees, it is country music that defines her. Quarter of a century living and performing in the country music heartland of Nashville, recording seven albums and "way too many fabulous opportunities to mention".
More on The Weekend Sun...