Making the most of a second chance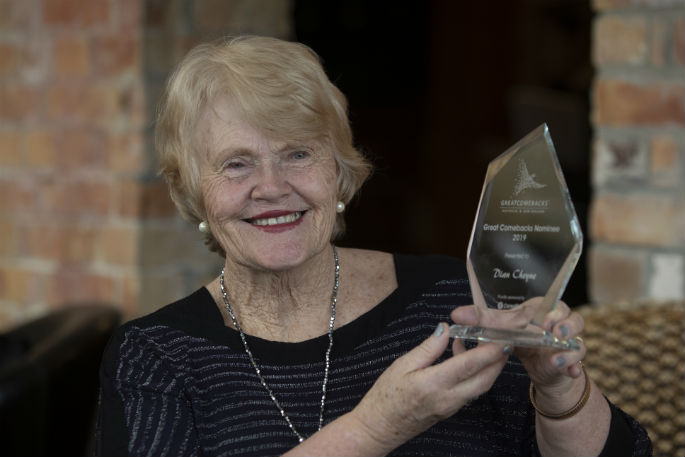 The cancer resulted in chemotherapy, radiation, a bag for her waste, four years of no bowel control and eventually an ileostomy.
Despite this, the Western Bay of Plenty Ostomy Society president is now thriving in her life.
"I line dance, I teach craft, I run a seniors social group called Encore at Bethlehem Baptist, I garden, swim and walk, and do all sorts of things, and so therefore I have made something of what has happened to me; I've turned it around so I can now give back to people," says Dian.
Her story is so inspirational that she was the only NZ finalist for the recent Great Comebacks Award in Australia.
The awards, which recognise and honour those with ostomy bags who have done great things post- surgery, are open to Australian and New Zealand residents who have had an ostomy surgery. This year, Dian decided to submit her story and was one of four finalists across Australasia.
"They paid for myself and my husband to go across to Australia, put all of us finalists up in a nice hotel and then we all got a lovely plaque because everybody's stories were so amazing with what we have done," says Dian.
"To be honest I felt pretty humbled to share the platform with so many amazing people."
Dian says there are more than 7000 ostomy people in New Zealand, with 500 people living in the Bay of Plenty, and she wants to take away the stigma of talking about ostomy surgery.
"Often people just want to shut up about it, they don't want to talk about it, it's not exactly a conversation for the dinner table," says Dian.
"You can go into your shell or you can be like me and talk about it and use your experience to help somebody else."
The Western Bay of Plenty Ostomy Society has about 100 members, and Dian says it can be a vital service for those looking for people who understand.
"It's very isolating when people have to go through surgery like that because not many people can understand it.
"There's nothing like people who have experienced it to help support you through it. The doctors and nurses can support you through the medical things, but the people that have actually been there, that's a tremendous encouragement for other people. People who have had surgery can help with daily tips and tricks that doctors don't have."
She says she wants to be an inspiration to others living with an ostomy bag.
"Some people might look at me and think: 'oh she does line dancing, she does gardening, goodness me!' because a lot of people think your life is over after this. It's life-changing, but it's not the end of your life.
"You can get on and live a very full and normal life."
More on The Weekend Sun...