Take care of pups like Poppy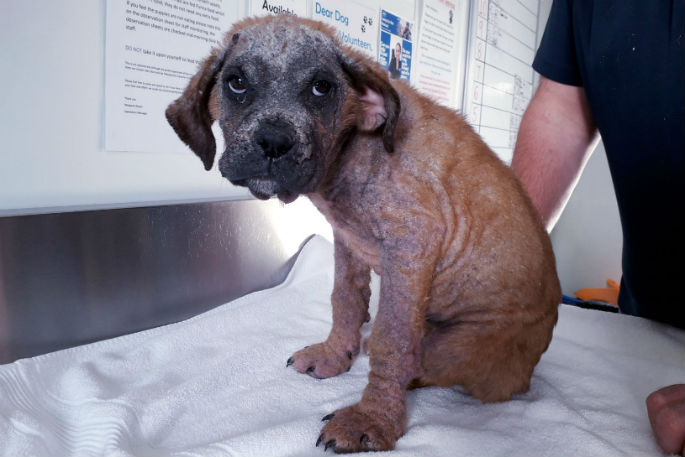 Poppy is one of many neglected stray pups that relies on the local SPCA for support.
Now the organisation is calling on the public for help, saying they need help to continue caring for pups like Poppy.
The three-month-old dog arrived at the centre in May this year, her skin riddled with a severe case of mange.
Her skin was weeping blood and she was unable to lie down from the discomfort.
SPCA Tauranga animal welfare inspector Anna Porteous described her as an "extremely unhappy little girl" when she stepped through their doors.
"Poppy had a really significant case of mange – a lot of hair loss, skin thickening and scabbing. It took lots of treatment and lots of love and care to heal her.
"We don't know her background, but there must have been a level of neglect there to have her in that situation," says Anna.
Nowadays, Poppy is full of life and happier than ever. She was recently adopted by a loving family and is living with lots of other dogs.
There are 40 animals in care at the Tauranga SPCA at present.
Anna says last November they had 83 animals in care, which jumped to 118 around Christmas.
She put's animal neglect down to lack of finances or owners not prioritising their animal.
"Finances are an issue for some people. It does cost a significant amount of money to take sick or injured animals to a vet.
"Other people just don't value the animal or care to spend the money. They don't see that as a priority."
The SPCA Tauranga centre receives about 40 animal welfare complaints every month in the Tauranga area. This increases to about 60 in the summer months.
Anna highlights the importance of reaching out to the SPCA, even if you cannot afford vet treatment.
"If you have contacted us because you are trying to do the right thing by your animal then we are always happy to try and help."
SPCA is urging Kiwis and their pups to join the pack and sign up for this year's Great NZ Paws Walk on November 9.
SPCA CEO Andrea Midgen says without the help of the public the team wouldn't be able to help the 41,000 animals that come through their doors each year.
The Tauranga event is at 43 Alach St in Greerton on November 9 from 10.30am-2.30pm.
For more information, visit: www.greatpawswalk.co.nz
More on The Weekend Sun...