Green inventor smashes avo issue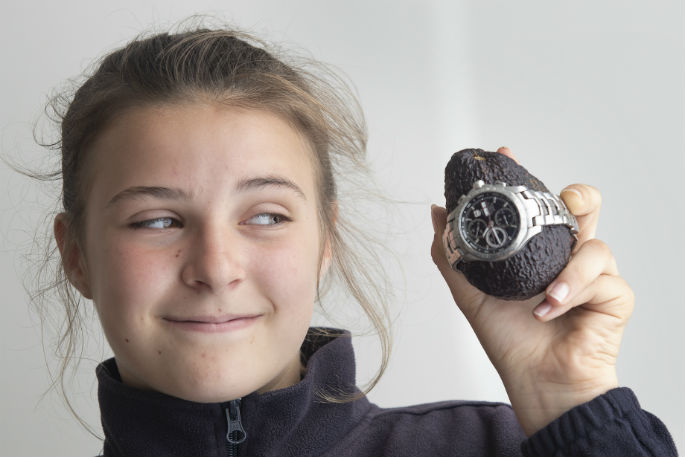 It all started with a passion for science and a mother's burning frustration about unripe avocados.
A Tauranga Intermediate student's 'Avocado Time Machine' will be on display at the Museum of Transport and Technology this coming month as part of a science fair showcase.
Anamaya Taylor, 13, won the best in fair award at the NIWA Bay of Plenty Science and Technology Fair after inventing an "ingenious" device to ripen avocados within a day.
"I live in a small orchard area, we always have the problem if we pick avocados they are never ripe when we need them to be," says Anamaya.
"My mum was getting really annoyed, she was having to go out and buy avocados when we have two trees at home."
This prompted Anamaya to design a machine to help.
She found out ethylene, an organic gas was the most efficient way to speed up the ripening process. After experimenting, Anamaya designed a prototype to ripen the fruit as quickly as possible.
She modified a soda stream, an appliance normally used for carbonating water, to spray gas into a bag holding an avocado.
Why was she successful? Anamaya puts it down to communication.
"I reached out to a wide range of companies who do the same thing," she says.
"Zespri and Zion bounced ideas off me about how they do it - I basically came up with an idea combining the different suggestions from them."
She said it was "professor of bananas" who let her in on the secret about ripening fruit through using ethylene gas.
Tracey Burton, a freshwater ecologist at NIWA, says Anamaya's project paired thorough scientific investigation with ingenious product design.
"Anamaya's project is an excellent example of scientific rigour and innovation. The Avocado Time Machine was a worthy winner among many clever and original projects," says Tracey.
The exhibition at MOTAT will showcase 25 unique projects from students aged 11-18 years old. Each display will outline the student's investigation, their methods, findings and next steps for further development.
The top five entries from science fairs held in Auckland, Central Northland, Waikato and Bay of Plenty will be on display at MOTAT until Sunday, November 3.
Anamaya says she regularly uses the device at home and would like to gather the funds so the product can get a patent.
"I want it to be a product that sells in supermarkets."
The Science Fair Showcase will run until Sunday, November 3.
MOTAT is open daily from 10am - 5pm and entry to this exhibition is included within normal MOTAT admission prices.
More on The Weekend Sun...