Foreigners flee fines, Kiwis stay and pay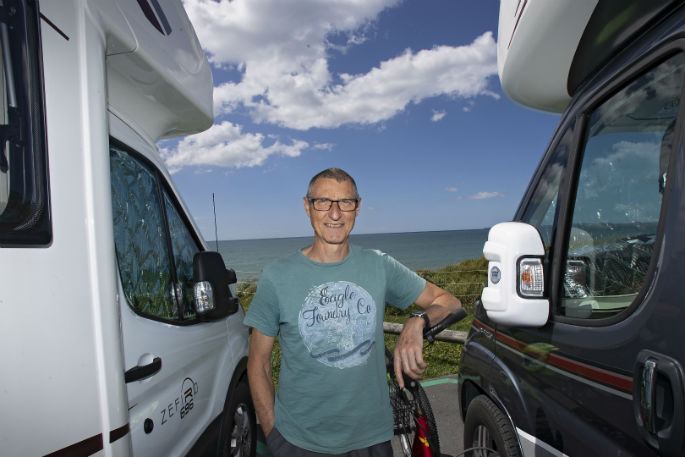 Every summer freedom campers cruise into the Bay of Plenty in search of surf, sun and scenic spots.
For residents, this influx of freedom campers can mean overcrowded reserves and overused facilities.
Tauranga City Council says there's no reason to suggest that this year will be any quieter than previous years.
"If the weather and the stars align, then it will be a very busy season," says team leader regulation monitoring Stuart Goodman.
Tauranga City Council has received an $183,000 grant from the Responsible Camping Working Group to help address issues associated with the practice.
The funding will go towards increased enforcement, more waste disposal facilities, additional cleaning and education around the bylaw.
Stuart says the two main issues that council face are people camping in prohibited locations and public defecation.
"We get a lot of people camping where they shouldn't – Marine Parade and The Mall are our two main problem spots," he says.
"Whatever waste people in non-self-contained vehicles generate, it has to go somewhere.
"Unfortunately, that sometimes results in people relieving themselves in public places which isn't the kind of behaviour we want to see."
Between November 1, 2018, and 31 March 31, 2019 – a five month period – Tauranga City Council issued 602 freedom camping infringements.
A large majority of these fines can be linked to international travellers.
Council issues $200 fines to those that breach the freedom camping bylaw, which governs locations where people can and cannot park and general behaviour of campers.
Stu says there is no great deterrent for people to abide by the rules, as fines are waived once freedom campers leave the country.
"If someone is visiting the country for a month and collects a whole heap of fines when they leave the country those fines are waived," he says.
"If people were stopped at the airport when they had an outstanding fine, there would be much more compliance."
New Zealand Motor Caravan Association spokesperson James Imlach says there are issues with how some people are freedom camping, but it is a minority.
He worries that all freedom campers are "tarred by the same brush", even though the majority of New Zealanders who freedom camp do so responsibly and aren't breaching bylaws.
"A lot of the decisions that continue to restrict freedom camping provide fewer areas for New Zealanders to camp, in response to problems caused mostly by international visitors," says James.
"Our members feel like they are doing everything they can to camp responsibly, but it's not being reflected in decisions made by council."
He says these decisions have a far more significant impact on New Zealanders than international visitors.
Tauranga City Council will be ramping up its monitoring from next month, patrolling high profile sites every night between 10pm and 5am.
Stu says the council welcomes freedom campers but expects them to respect the city.
"We want to be a freedom camping city, but we expect them to abide by the rules because we want to protect the environment for our residents."
Western Bay of Plenty District Council has received $133,032 from the Responsible Camping Working Group to dedicate resources to monitoring, use of facilities, public education and environmental protection around freedom camping areas.
Western Bay of Plenty District Council compliance and monitoring manager Alison Curtis says they take an education approach when it comes to monitoring freedom campers.
"Contractors will go round in the evening, and make sure campers fully understand what the requirements are," Alison says.
"They will go back and monitor the site later at night, which is when we take a stricter approach."
Alison reiterates that there has been an increase in freedom campers in the WBOP over the past three years.
"We get more pressure around the popular reserves over peak season, you start to get a conflict between campers and other reserve users.
"Monitoring is about making sure campers are in the space where they need to be so they aren't taking over reserves, which is the impression locals have had in the past."
Between December 3, 2018, and February 6, 2019, Western Bay of Plenty District Council issued five freedom camping infringements.
James says a major problem for their members who freedom camp in Tauranga is designated areas not accommodating to larger vehicles.
"A lot of our members feel that Tauranga is catering for the rental vehicles and New Zealanders in larger motorhomes are squeezed out a bit."
He also says these designated areas are often full of rental vehicles, leaving no room for members of the association.
"Tauranga is quite a popular place for people to go freedom camping but as we see it there are some capacity constraints. The way some of the areas are set up doesn't make it easy for our members in larger vehicles to be able to use those sites."
Richard Udy, who is a member of NZMCA, has been travelling around the country in his fully self-contained motorhome for the past four years.
He is currently freedom camping at Stella Point in Tauranga, which he says is a well set up spot with appropriate facilities.
For Richard, responsible freedom camping is "not leaving rubbish around, taking care of the area and not creating a nuisance for noise".
He says he hasn't encountered many issues freedom camping in Tauranga, however, sometimes it can be particularly difficult to find a spot to set up camp.
"The spots here only take two or three vans at a time. Sometimes you have to really hunt around to find a place that has a vacancy.
"Getting rid of rubbish is also a problem, quite often the rubbish bins here are filled right up. It would be good to see an increased amount of rubbish and recycling bins."
More on The Weekend Sun...