Mind-bending fun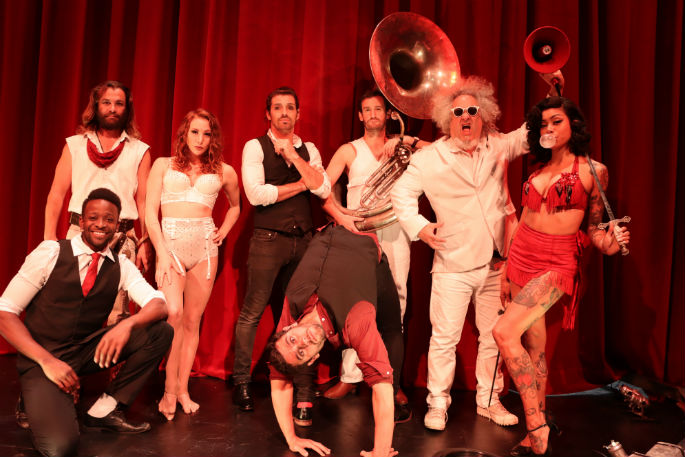 Heather Holliday has one piece of advice for youth keen to try sword swallowing: "don't tell your parents".
LIMBO has been everywhere from London to Brussels and now the troupe is in Tauranga, delivering its brand of burlesque circus goodness.
There's sword swallowing, body bending, fire breathing, aerial acrobatics all alongside live-composition led by Sxip Shirley.
Heather is a sword swallower and fire-breather and says audience members need to come along with an open mind.
"This show is so random, it's like a big party on stage. It's so loose and fun, and if you come not knowing what to expect you are going to have the best time."
Heather got into sword-swallowing when she was 17 years old.
"I was just quite pushy and incessant and I lived in New York where there's Coney Island which is quite historic for having sideshows of the turn of the century," she says.
"It's really the only place I could think of that a kid could just roll up and ask to get a job."
She says parents are not all that accepting until they know that it's safe and you can actually make a career of it.
Contortionist and acrobat Aurélien Oudot can bend his body in ways that are almost impossible to comprehend.
Originally from Paris, Aurélien has been a professional circus artist for five years.
He has travelled to more than 10 different countries with LIMBO and says the best part of the job is discovering new cultures, new people and witnessing different energies from each audience.
Aurélien reckons contortion is a pretty safe practice.
"Sometimes you block a nerve, get a bit dizzy, and you don't know where you are but it's occasional."
Hawkes Bay publication The Hook describes the show as a "rip-roaring 75 minutes of pure frenetic energy, grace, humour, skill and an exposition of the outer limits of what the human body can achieve".
Composer Sxip Shirley agrees, saying the crew is full of multi-talented artists.
"The acrobats and incredible physical artists in the show actually play music too. It's surprising - you will see this person doing an incredible thing on stage physically and then suddenly they are in the band."
In the live ensemble, Sxip uses foley devices as musical instruments.
"Foley is the word for sound effects. It's surprising sounds, things you haven't heard before but it's very catchy melodies. I call it music you can hold," he says.
"I have been doing this for around 30 years, I like watching this kind of theatre and I like to use my music to tie it all together.
"To be a successful theatre composer, the artist is part of the composition. You're successful when you're fusing those things together."
Sxip's says hands down, his favourite thing about New Zealand is the food.
"I like eating the food. I went to NOURISHED. I love eating the flesh of animals but I was totally satisfied with that meal. That was great.
"We were in Hawkes Bay, ate great asparagus. You wouldn't think you'd run a flag up a flag pole about asparagus but they do in Hawkes Bay for good reason. "
LIMBO will be doing their thing on Friday, October 25 and Saturday, October 26, in Tauranga at Baycourt.
Contains adult themes so recommended for ages 13+.
For more information, visit www.taurangafestival.co.nz
More on The Weekend Sun...