A timely rubbish reminder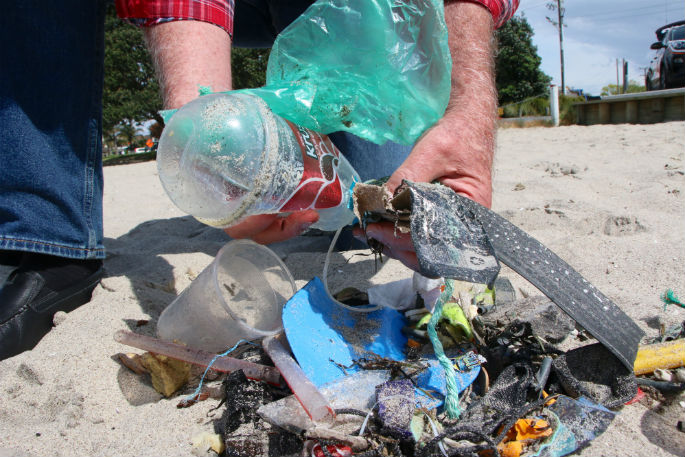 There's a chunk of plastic from a child's bucket and spade, plastic fireworks components, plastic wrappers, plastic ties and a bit of plastic rope, plastic drink cups and plastic bottle tops.
There were plastic bags and lots of very fine shreds of plastic fibre.
And it was all recovered from Papamoa Beach at the weekend when a leisurely hour-long surfside stroll turned into a salvage mission, a rubbish recovery operation by a visitor.
"Really sad," responded the community beach custodian. "Heart-breaking," said the Surf Lifesavers.
And the visitor herself was "disgusted" enough to drop by The Weekend Sun with her bag of rubbish, her bag of evidence, before leaving town.
"I was quite upset at what I found," says our visitor who chose not to be identified. "It's not about me but about people who don't seem to understand what they're doing to the environment."
Our visitor's impression of our beaches isn't the one portrayed in the glossy brochures and she's probably gone home to Northland to tell people that the pristine Bay of Plenty coastline, the best beaches in the country, are a figment. "Haven't you just cleaned up after the Rena?" asked the tourist. "Now this."
Her experience has prompted the Papamoa Surf Life Saving Club to issue a timely reminder to everyone using the ocean – beachgoers or boaties – to make sure they take extra care in the marine environment.
"It's always heartbreaking to see rubbish left and washed up on our beautiful beach," says PSLSC chair, Angela Hayden.
"But it's even worse at this time of year, when wildlife is breeding and is at a particularly sensitive stage.
"You may think that it's a case of 'not in my backyard' but all it takes is one good storm and that empty bottle or plastic debris may soon actually be washed into your backyard. We're really grateful to the kind souls who patrol our beach, picking up after others, but we really wish it wasn't necessary."
Kind souls like Brenna Roband and the hundreds who join her community Projects by Bren clean-up events.
"I am surprised to hear this," says Brenna. "The clean-up we did a fortnight ago left Papamoa beach incredibly clean and the volunteers found most of the rubbish in the dunes and around the car park rather than on the sand itself."
Brenna says weather has a huge impact on where the rubbish ends up. "So it can get blown onto the beach or washed up.
"Ideally we want all rubbish to be put in its rightful place, the bin, so it does not make its way anywhere else and has no impact on the marine environment."
Nearly 30 kilograms of rubbish was collected during the last clean-up of Papamoa beach and surrounds – 41 per cent of it recyclable.
"Sadly some people do not think about the impact leaving their litter on the beach. Generally people in the Bay are good at taking their waste with them, and there are many people willing to do their bit to keep our coastline clean and beautiful and collect waste when they see it. But sadly, not everyone."
Brenna's next community beach clean-up is on Sunday, December 1, at Mount Maunganui.
Already more than 500 people have expressed 'interested' in the event. "Hopefully we will have a huge impact on cleaning up all around the main beach, Leisure Island and Pilot Bay before the summer rush."
People can find out more about the clean up on Brenna's Facebook page: @projectsbybren
More on The Weekend Sun...