The true test is a test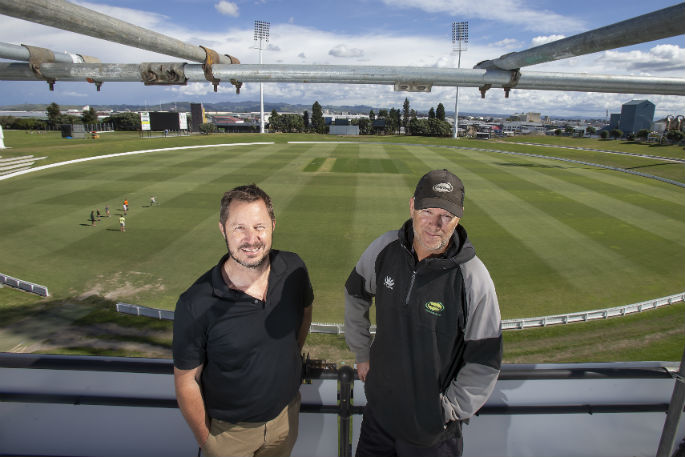 Tauranga is the country's fifth biggest city, the third fastest growing regional economy.
And, more importantly, at least for cricket aficionados, it's on the brink of becoming an international test cricket venue.
"We're all cricket fans. All purists," says Kelvin Jones, doyen of the Bay Oval, the man who built the backdrop for the Black Caps v England test starting Thursday, November 21. For him, a cricket test is the ultimate.
"And as much as we love white ball cricket and the big crowds and excitement it brings, the Bay Oval isn't a test match venue until we've had a test match. And it's against England. It can't possibly get better."
And ever since that flash new pavilion was built, ever since those multi-million dollar light standards soared over our designer cricket ground, arguably the premiere cricket facility in the country, that has been the goal.
"A treat," says Chris Pringle. That big, awkward, fast-medium frame trundled in through 14 tests for New Zealand in the early 90s. "Test cricket in Tauranga - a pipedream, never thought we would see the day."
Chris is now a prominent realtor in town.
He has a couple of auctions on the first day of the test – the vendors would suggest they're a priority.
"But I will be there day two – it'll be great seeing test cricket in the New Zealand captain's backyard."
But it hasn't come easy. Kelvin Jones lobbied long and hard over the years. "Lots of people saw us as we did, almost a classic test match venue, with big ground, white picket fence and grass embankment.
"It took a lot to prove to NZ Cricket from a facilities and wicket point of view that we were there."
And it can't get any better – seeing local boys Kane Williamson and Trent Boult playing in a local test match in front of a local crowd, and against England. A marketer's delight.
"Williamson and Boult, two of our best cricketers and potentially once-in-a-generation cricketers showing their wares on our test stage – great!" enthuses Kelvin. And he can remember when Dave Johnson, then cricket manager of BOP Cricket, now Bay Oval turf assistant, and also mentor to a would-be star, asked Kelvin to umpire an intermediate school cricket match so he could watch "this special kid." The special kid was Williamson.
"It didn't demonstrate any foresight from me, but it was obvious from a young age. He was amazing."
But Kelvin Jones did develop foresight. Whenever he went to international sporting events he wouldn't so much be watching what was happening but rather how it was happening.
"I'm always looking at how other people do things." And then he got things done - that was the manager in him. And he likes the Adelaide Oval model where it's more about the event and the occasion rather than the cricket itself.
"That's where we would like to get to - so the game becomes an occasion." But that won't take away from what's happening on the field.
"We want to prepare a good wicket for cricket.
"The one they've been pitching to NZ Cricket.
"One that doesn't favour batsman nor bowler. A fast, bouncy wicket is often that, where good batsmen and good shots are rewarded, as are hardworking bowlers."
Kelvin Jones and his team have been talking to people, seeking advice. But this test will be another kind of test.
"Because we don't know what we don't know." The Bay Oval hasn't been here before.
Crowds will be slightly less day by day, but overall Kelvin Jones is expecting greater numbers than they would get through the gate for a T20 or ODI. And from what they are seeing from ticket sales, local and international cricket fans are supporting this event. He's staying schtum on numbers but says they're "really, really nice" for the first three days.
Chris Pringle, who fashioned his cricket career on Auckland's Eden Park, is now an apostle for the Oval.
"It just makes so much sense. People coming to the Mount for a party, families on Christmas break, going for a swim, then some cricket at Bay Oval before going out for dinner or a barbecue. It's all there isn't it?"
More on The Weekend Sun...