Connection builds community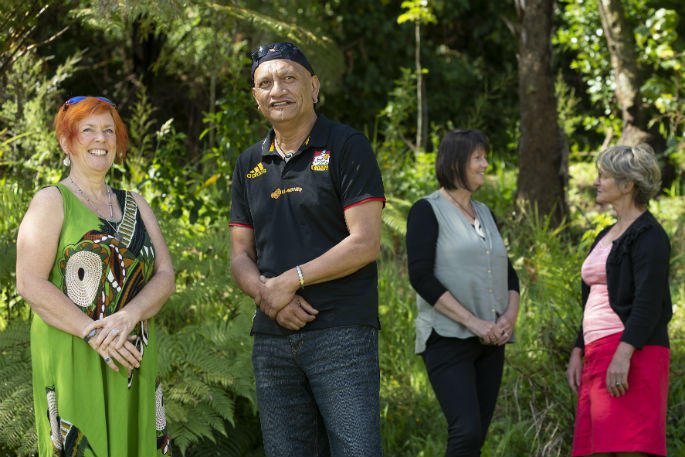 It only takes 30 seconds to establish a connection with a stranger.
That's the key message of an award-winning Katikati community development facilitator.
Tessa Mackenzie recently received the national Billie Award for strengths-based research in a project run by Katikati Taiao.
The project purpose? Bringing together different groups to find a common identity that could anchor the Katikati community.
"It was very much a relationship engagement process rather than an investigative process," says Tessa.
"We focussed on the strengths of what was already happening in the community, and looked at finding the connections and disconnections."
The project was funded by the Lottery Community Sector Research Fund.
Katikati Taiao chair Jenny Hobbs says population growth within Katikati resulted in parts of the town becoming fractured.
Silos developed in the fast-growing, non-European community, particularly among Indian, Maori and Pasifika groups, she says.
"People wanted to connect, but they didn't have the tools to do so."
This is what sparked the year-long project, which bought various community members together who hadn't yet crossed paths.
The research reference group consisted of 13 people from different ages, ethnicities, occupations and faiths.
Jenny says the research model is "cutting edge" and she hopes it will get the ball rolling for more similar research in New Zealand.
Events held throughout the process included a youth-led suicide prevention event, a panel on tiny homes, a youth-led hui for adults and several film nights.
Reference group meetings were held monthly at Te Rereatukahia Marae and started in September 2018.
Research facilitator David Aupapa says it took time to establish trust and dialogue with the local hapu, but now everything has "loosened up".
"Meeting the kaumatua of the local hapu - it was a challenge to get that right. You had to tread carefully and be respectful of everybody.
"To be able to speak on that marae was a huge honour, and I feel like I am part of it all now because we journeyed through some honest talk."
Tessa reiterates the power of strengths based-receiving, saying receive the award highlights this.
"When you concentrate on the strengths that a community already has, then you can achieve great things."
She emphasises the importance of micro-engagements between people, saying it can cause ripples across the Katikati community creating real change.
"We need to rely on our relationships with each other and the planet. The longer we can keep those connections better off-we will be in the long-term."
For more information on the project, visit: www.envirokatikati.org/hearts-and-minds/
More on The Weekend Sun...