Government taps Tauranga expertise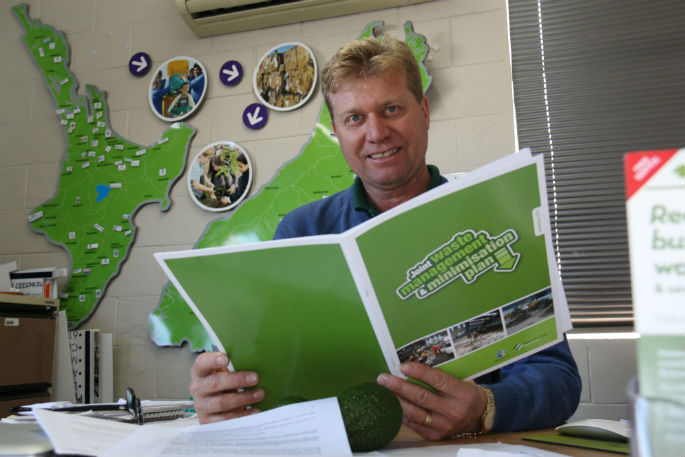 When garbage guru Marty Hoffart landed from Canada 26 years ago he ran headlong into Kiwis' indifferent, even reckless, attitude to recycling.
"It was my first Kiwi party and a guy grabbed a multi-walled brown paper rubbish bag and started clearing all the empty stubbies into it. I said: 'whoa, whoa, whoa – what are you doing?' He was just getting rid of the rubbish. That's what it's always been."
But not for too much longer. Because Marty, director of the Tauranga based waste minimisation consultancy Waste Watchers, has just been drafted into the Government's design working group to re-introduce a long-awaited beverage container return scheme for New Zealand.
When consumers recycle their drink bottles, they'll get a deposit back, so there's a monetary incentive to recycle - 10 cents for beer bottles, beverage cans, juice bottles and boxes, milk bottles, basically anything you can drink from, from 300mls to three litres.
And 25 cents for any container over a litre. "We drink 2.23 billion of them a year – but less than half are recovered for recycling. Beverage containers are the second most littered item after cigarette butts and that's why they are being targeted. They are the face of waste, like plastic bags."
We see them on the streets, in the gutters, at least 45,000 tonnes discarded each year into the environment and landfills, the equivalent of 700 Boeing 747 jetliners filled with beverage containers every year. Nearly all beverage containers can be recycled however most end up in landfills.
New Zealand has a recycling rate of 35 to 40 per cent. "But if you put a value on recyclables, the game changes," says Marty. "Germany gets almost 98 percent of their beverage containers back. Why?
"Because they're worth 33 cents. The higher the deposit, the higher the return."
The container return scheme is huge according to Marty Hoffart. "Definitely the biggest thing that's happened in more than a decade with waste and recycling in New Zealand. And it's something I have personally been promoting for twenty years."
Now Marty and about 14 other representatives of beverage industry, manufacturers, bottlers, recyclers transport companies have been charged with telling five million Kiwis how this will work. He already has some ideas. "There might be about 220 return depots nationwide, all run by entrepreneurs, community organisations, private companies, no public money and they get a handling fee."
Drop in with your recyclables – they're counted and valued and then a digital refund is pasted to your PayPal account, you could get a retail refund when a machine spits out a chit for Countdown or whatever or you can donate it to charity. "Then the returns are loaded into a 40 foot trailer to one of three distribution centres in Auckland, Wellington and Christchurch. They're sold back to the manufacturer to begin the cycle all over again.
"The CRS would double our recycling rates to 85 per cent, unachievable otherwise. It will save local authorities, like the Tauranga City Council $20 million in recycling collection costs, will create 2400 new jobs and have an overall economic benefit of $45 million every year."
Now the man who grew up with beverage container return schemes in Canada and has been lobbying and preaching, pleading and pushing for a beverage container return scheme for twenty years in this country, now has his way and will be a key player in getting the CRS up and running.
"It's going to make a huge difference. The Government banned plastic bags last year and you don't see many of those blowing around on the street. And in a couple of years you won't be stepping over discarded plastic bottles, or cans, or glass bottles in the street either."
More on The Weekend Sun...