Tauranga triathlete chasing Olympic dream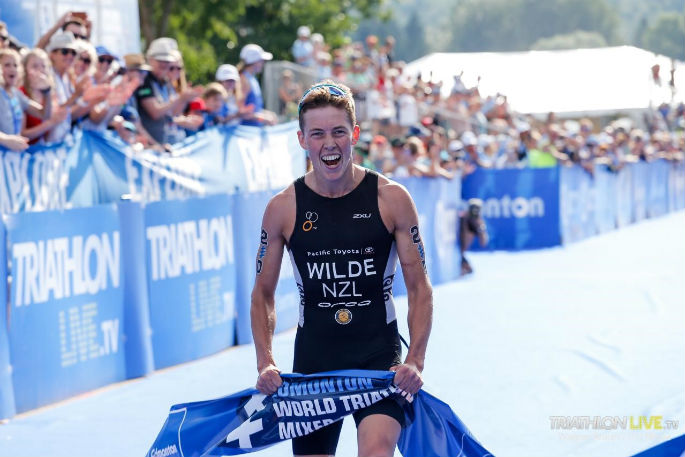 Just a year ago Hayden Wilde made it into the top 100 ranked triathletes in the world for the first time.
Now the 21-year-old Tauranga-based athlete is just outside the top 10 in13th position after a career-defining European season in the World Triathlon Series (WTS).
He has broken through to be ranked New Zealand's number one male triathlete and a serious medal threat at the Tokyo Olympics next year.
The New Zealand team is selected for Tokyo in April next year but after his consistent performances against the world's best over the last six months the popular athlete is well placed to reach his Olympic goals.
Hayden knows his New Zealand ranking means nothing until he qualifies for Tokyo.
"That stuff is just on paper. When you race guys like Sam Ward and Ryan Sissons and Tayler Reid we are all pretty close and pretty consistent.
"There are only two spots for the Olympic Games up for grabs or potentially three if we can get another guy in the top 28. The New Zealand qualifications include getting a podium at the Tokyo test event which I did and the only Kiwi.
"We are looking hopeful but I have to keep trucking along and training hard so if I do get the call to go to Tokyo I am ready."
Hayden is immensely proud with how well this year has gone.
"It has been a huge season. I have had the best results I have ever had.
"The successful streak started with a sixth place in Hamburg, then over in Edmonton, Canada finishing fourth overall for the individuals and first in the mixed teams relay team.
"Then I headed to Tokyo and got third place in the Tokyo Olympics test event and finished the season off with a fourth place.
"I then headed to Super League where I am second after the first two stages behind current world champion Vincent Luis. So it has been a great season. There are 30 of the best triathletes invited to attend so it is a pretty stacked field."
There have been some tough moments too. Hayden competed at his final Super League event in Malta last month with seven stiches in his cheek and covered in grazes after a training accident.
But the 'Maltese Falcon' as he is now known showed plenty of courage and resilience to claim a podium finish.
Hayden first made his name winning four world multisport titles based in his hometown of Whakatane.
Three years ago he moved to Tauranga to concentrate on triathlon under the coaching of Craig Kirkwood Athletics and Liz van Welie Aquatics.
The move quite clearly has been life changing.
More on The Weekend Sun...