Picking up trash at Main beach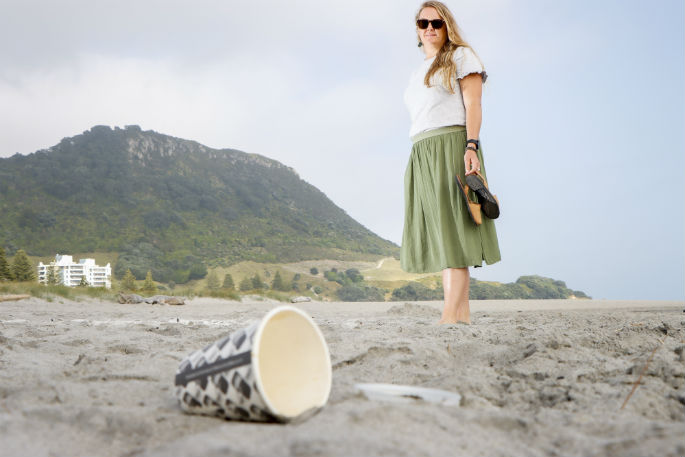 Brenna Roband has spent the past four years running beach clean-ups in Tauranga and in that time has collected about 284 kilograms of waste.
The Tauranga local, who works as a freelance event manager, says she's never been afraid to get her hands dirty and is just trying to do her bit.
This weekend she's holding a clean-up at Mount Main Beach to give the area a spruce-up before the "hectic summer rush".
She's calling on the community to spare an hour next Sunday and help pick up rubbish, saying every little bit counts towards protecting the local marine environment.
The largest beach clean-up ran by her involved more than 70 people picking up rubbish outside the Papamoa Pony Club in February, Brenna says.
She wants to see numbers rise above 70 next weekend and is hopeful with more than 800 people expressing interest on the Facebook event.
"It'll be quite scary what we find. There will be lots of waste because there hasn't been a clean-up that way for quite some time."
According to Brenna, the "pinch spots" for rubbish in the area are Moturiki Island (Leisure Island), Mount Drury Reserve and the dunes.
"The beaches themselves are looking a lot better than they used to, but there is more rubbish hiding in the dunes.
"Volunteers need to be careful they aren't doing any damage to the dunes when picking up rubbish, but that's where a lot of it collects."
Brenna is also always astounded about how many cigarette butts are picked up during the beach-clean-ups.
"They are atrocious. People think just because they are small they will not have an impact. A lot of them are found near rubbish bins too."
Rubbish collected by volunteers at every beach clean-up is audited by Brenna on-site.
She separates the waste that can be recycled, and the waste that will need to go to landfill.
Out of the 284 kilograms of waste collected from beach-clean ups in the past four years, 41 per cent of it has been recycled, says Brenna.
Waste is then dropped to a local transfer station free of charge, thanks to support from the Tauranga City Council.
"We don't just collect waste - we break it down to glass, cardboard and all of that," says Brenna.
"What is most important is it is going somewhere where it will have less of a direct impact on our marine environment.
"I love the ocean, and I love the coastline. We are so lucky to call the Bay home, and I just think we can do our bit to try and keep it clean."
The event is being held on Sunday, December 1, from 3pm to 5.30pm. It will be based at the bottom of Mount Drury.
Cleaning equipment will be provided. For more information, email: projectsbybren@gmail.com or search 'Projects by Bren' on Facebook.
More on The Weekend Sun...