Harley-Davidsons the new Santa's sleigh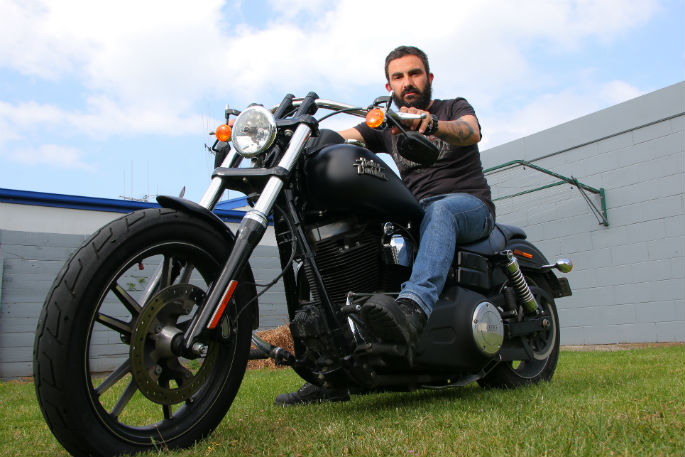 "People think bikers are all criminals, covered in tattoos, bearded and scary looking bastards."
Adam Fenech ticks three of those boxes – he rides a Harley-Davidson, he has a beard and he is tattooed. "That's 95 per cent of the people I know mate."
But he is squeaky clean and as soft and sweet as the rhythmical thumping his 103 cubic inch Milwaukee-Eight makes at optimum cruising speed. "But never over the speed limit," he says mischievously of a bike bred to roll well in excess of 150 km/h.
Anyhow, there's Adam in full Harley-Davidson livery – black t-shirt, black jeans, black boots – and Adam hidden behind a black beard and astride a very black motorbike.
But let's think black is the new red and that the beard is white, because this Mount Maunganui biker is doing a fine job of playing Father Christmas right now.
"I know kids are drawn to Harleys – anything that's a bit shiny, a bit flash, lots of chrome rather than the run-of-the-mill-bike. Every time you park up, a kid will come over and yak."
So that led Adam to do some thinking. He might be able to add some unexpected cheer to a few cheerless Christmases. Put a kid on a motorbike, a kid facing a challenged Christmas, a kid who may go without, give them a thrash around on a Harley, put some grunt into their Christmas, give them a 1747cc smile.
Bikers have bought into the idea. "They keep coming on board. We started with three riders, and now we have another four or five." It continued to gain traction. "More people have come to me on Facebook offering V8s and classic cars."
So, some may get a cool car ride instead. "Which might be a good thing for a lot of younger ones who can't hang on, have a disability, or their parents don't feel comfortable having a child on the back of a Harley-Davidson with some clown they haven't met in their life." And other parents can climb in the cars and follow the kids on the motorbikes.
A bar called Mount Mellick has offered the kids fish'n'chips at the end of their run and East Coast Harley Davidson has given Adam a selection of giveaway shirts and hats. So it will be the full Harley-Davidson immersion for these kids.
"And private individuals have offered petrol vouchers, grocery vouchers, food items, things like that. And those are the cool ones. Because those guys have nothing to gain from it."
But those who do stand to gain are those less fortunate kids whose Christmases will now be " …decked with boughs of Harley, fa la la la la..." as the Christmas carol kind of goes.
"We have a pretty good idea of how it will work. It just comes down to how many bikes, cars and kids.
"There's been a huge response to this. Choosing is going to be the difficult thing. We're trying to think of ways to involve a few more kids, we are going to be spending the next week or so planning out a few things."
The kids will be nominated for a treat. "Aged 5-15. One family has a two or three-year-old. They will have suffered the recent death of a parent – there's a couple like that. Parents who are struggling – one family isn't going to get much of a Christmas meal let along anything else. And that's a bit sad."
Half an idea is now gathering momentum, turning into something special. "But we don't want to get out of our depth – advertise it and 3000 kids turn up. We will make sure not one child is disappointed." The bikers are meeting soon to sort things. But they have already set Saturday December 28 aside for the Harley-lujah kids Christmas ride.
"Yes, it's a cool feeling. But then it's a pretty cool community. Bikers and hot rodders are always doing things like that. We have done rides for families hit by cancer and a fundraiser for the rescue helicopter.
"Easy to raise two or three grand in a couple of hours."
And Adam's ink is hardly hardcore biker stuff and tell us a bit about the man and his values. There are soft and sensitively crafted likenesses of his late grandfather and grandmother.
His daughter Mikayla adorns his forearm. "She was horrified. So I told her that when I am in my last hour on my death bed and she is holding my hand, she will be patting her own image." His son Corbyn is on his inside forearm. "He loves it". An image of his late Dad is in the planning and there will be space for his mother. This truck driver's family climbs in the cab with him every day.
If you have a nomination for Adam's Harley-Davidson kids Christmas run message him on: anita.adam@orcon.net.nz
More on The Weekend Sun...