Helpers need help too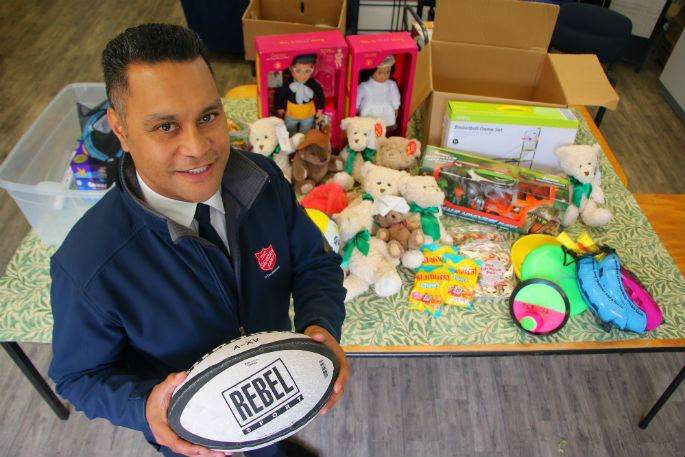 Struggling families and individuals will turn to the Tauranga Salvation Army for support this Christmas, seeking out shelter, food parcels and gifts for their kids.
The festive season is a busy time of year for the centre, and it all ramped up last week with the launch of its nationwide Christmas Appeal.
Tauranga Corps officer Francis Vemoa says their service makes life easier for vulnerable community members this time of year.
He is urging people who can to donate to the appeal and help give those doing it tough a "hand up".
Over the Christmas period last year, The Salvation Army provided accommodation for 34 families and handed out 250 food parcels in the Bay of Plenty region.
Francis says they expect this year to be even busier than the last.
"A lot of people come to us when they have reached rock-bottom. It can be very difficult for parents to explain to their children "we don't have anything for you this Christmas.
"We want to relieve that pressure and let them know we are here to help and give them a hand up," he says.
Tauranga Salvation Army volunteers will be doubling their hours next month, working hard behind the scenes sorting donated gifts and putting together food parcels.
"It gets pretty crazy, but we just get on with it working hard in the background," says Sue Leaver, who has been a volunteer at the Tauranga centre for about two years.
She speaks of the generosity shown by the Tauranga community.
"Last year an elderly couple filled up a car with food several times and dropped it off to us. There's a lot of kindness out there, but we can never have too much," she says.
The Tauranga centre will be hosting a Christmas Santa's Grotto from December 18-20 in their social hall, where struggling parents can pick up gifts for free.
Francis says in past years, the teenagers have missed out on gifts due to an oversupply of toys for kids.
"Now, we are asking for donations of sports gear and toiletries for our teenagers - as well as food and financial donations."
The Army is expecting more than 1800 Kiwis to spend this Christmas in one of its transitional or social houses across the country.
On top of that, volunteers will be bust organising more than 15,000 food parcels for those in need.
"For most of us Christmas is a time of joy and celebration, but for many others, it is another day without food or shelter and can be filled with stress and loneliness," says Salvation Army national director of Community Ministries Jono Bell.
He says they aim to provide hope and relief while they work alongside people to meet their aspirations.
The Army also has a nationwide programme Gifts of Hope which extends out past Christmas day, providing families with school uniform grants, budgeting sessions, food parcels and emergency accommodation.
"When the debt starts to come in after Christmas, it can get pretty difficult. This programme helps people get back on their feet," says Francis.
Francis says he is often asked why he does his job.
"People ask if we preach, no, we are known for taking action. That is our mission.
"It's our mission to get in there, roll our sleeves up and get messy however that looks. We want to work together with people and help improve their lives."
The Salvation Army's Christmas Appeal runs until December 20, 2019, and donations can be made online at: www.salvationarmy.org.nz/christmasappeal
More on The Weekend Sun...