A feature of the nightscape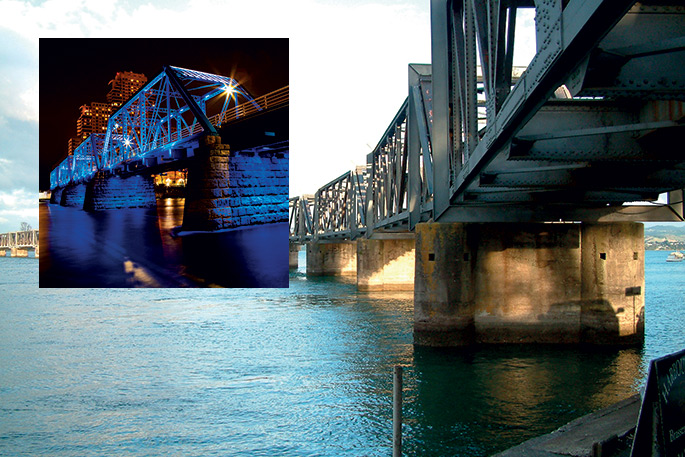 It's an old steel truss bridge – functional rather than fussy. And all day it rumbles to the tune of the East Coast's main trunkline container traffic. Into the Port of Tauranga, out of the Port of Tauranga.
Then there's the people traffic – the cyclists and pedestrians trudging between the city and Matapihi, Bayfair and Arataki.
But Tauranga City councillor Steve Morris has a finer appreciation of the structure – a 450 metre artistic installation – perhaps.
"It's a simple but spectacular idea that could create pride in being a citizen of Tauranga," says the councillor for the Mount Maunganui-Papamoa ward. "And in a way no new council office building could ever accomplish."
The idea is to light the bridge at night, to transform a piece of dowdy working infrastructure into a waterfront feature. It's not Steve's idea but it's one that seems to be gathering momentum.
"I've found a similar-looking bridge in Grand Rapids, Michigan, in the United States, which was lit up with LEDs a few years ago. It looks spectacular," says the councillor. Grand Rapids fussed up their bridge for about $300,000.
"That included strobe lights, but because Matapihi is a working bridge, it might not be practical."
Fellow councillors Rick Curach and Bill Grainger appear to be on-board. They think it's an idea the community could get behind and fund.
It's an idea born from study. Helen Knight was looking for a project – something in the community she could improve – it was part of a Bachelor of Creative Industries degree.
"The bridge was dark, not very attractive and probably not very safe at night." She came up with "off the grid" wind and solar-powered pedestrian lights, murals and the full feature lighting.
Helen came up with the idea and Steve ran with it.
"You don't have to kill the ratepayer with debt or crippling lease payments to brighten up our city. And people shouldn't lose sight of the fact our city is greater than a few hectares downtown.
Rick is apparently trying to get Helen's idea beaming across the harbour. He approached TrustPower but they're fully committed with sponsorships at the moment.
Helen's thrilled her idea is gaining traction. "Excellent," she says.
A glowing Matapihi rail bridge comes at an important time for the city. Because, says Steve, it would provide a balance to the expensive demands for an added $170 million of ratepayer funds to be spent on buildings in the CBD.
"We must be level-headed when it comes to pressure for a new council building, stadium and various other amenities. Because core infrastructure matters to us, especially if the tap doesn't run properly or sewage ends up in the harbour."
He believes the bridge lighting proposal is of a more realistic size, and one he believes residents would support and take pride in.
More on The Weekend Sun...