Tutu much for the Moore family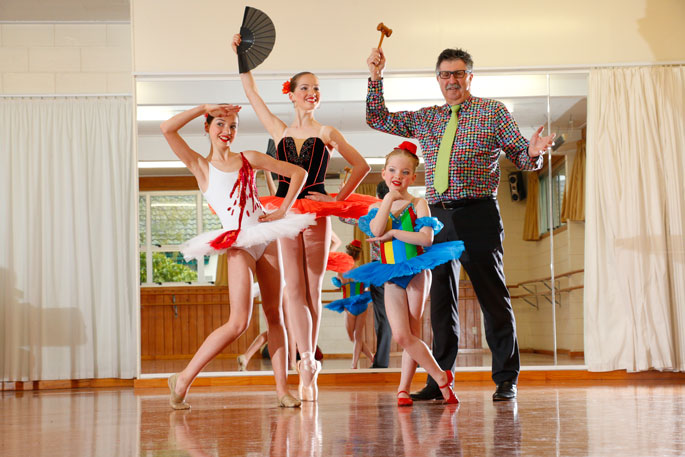 Good things come in threes. That's definitely the case with the Moore sisters. Three beautiful girls, three talented ballerinas and three young lives dedicated to dance.
Pirouetting and posing in front of the camera during a photo shoot with The Weekend Sun this week, Olivia, 14, Arabella, 12, and Lucia, 7, executed every move perfectly. They were a vision of beauty.
It's no wonder the three girls have been invited by Paris opera ballet master Jacques Marsa to dance on the international stage in Brussels, Belgium.
There, the petite trio will dance in the Petipa International Ballet Competition and partake in master classes from October 29-November 2.
The Dance Education Centre pupils will perform routines choreographed by their dance teacher Debbie Gooch, as well as a dance devised by the ballet master Jacques in their separate age groups.
From driving the girls to dance lessons 15-20 hours each week to watching every end-of-year performance and stitching together tutus, the dancing daughters definitely keep mum and dad on their toes.
Yip, it's mum Kat who spends countless hours sewing costumes together. "Otherwise I'd have to work a second job," laughs Kat.
And dad? "He's now involved back stage at the end-of-year shows," says Kat. "He's very proud."
Three girls, living in the same house, with the same dream. There's bound to be a few arguments, right? Wrong. "The girls get on very well, we're very fortunate," says Kat.
At competitions, big sister Olivia makes sure her younger siblings don't have lipstick on their teeth, their costumes are on right and they've got their correct props before they go on stage.
"I often say to Olivia: 'Can you go and do a practice with your sisters?'" says Kat. "Olivia knows every detail of their dances from their music to where their foot needs to go.
"They critique each other. At competitions they're a team."
It makes for very proud parents. "They work very hard," says Kat. "They're a credit to themselves, they're very talented. I love watching them dance, it's quite special."
The family love affair with dance started with Olivia. "Olivia grew up dancing," says Kat. "Before she could walk she was in tutus and the music was on.
"In fact, all my girls have ever done is dance, music and dress-ups. We've bought Lego and it just collect dust in the corner."
Olivia was taken to her first dance class at age three. "She took off and her teacher recognised straight away the talent that she had."
The 14-year-old is already a junior associate at the NZ School of Dance as part of the Royal NZ mentor programme and the NZ Dance Company youth programme.
"When I dance I can express myself," says Olivia. "I feel like I can be myself when I dance."
Arabella was next. "I used to take Arabella to dancing when she was about two and we had tantrums on the steps because she wanted to stay," says Kat.
"I just love dancing," says Arabella. "I don't know what I'd do if I didn't dance."
Now, Lucia wants to be able to dance just like her sisters.
"She's our performer, she's very good at the theatrical role," says Kat. "She'll have the audience in stitches."
To help get them to Belgium, the Moore sisters are hosting a fundraising concert at Otumoetai College Performing Arts centre on September 13.
The concert will be MCd by experienced and licensed auctioneer Frank Vosper, who will auction off a specially-designed tutu donated by PW Dance and Sportswear.
Tickets cost $20 for adults, $10 for children and $40 for a family pass and are available by phoning 021 02358389. Doors open 3pm.
More on The Weekend Sun...