Folding cranes to make a wish come true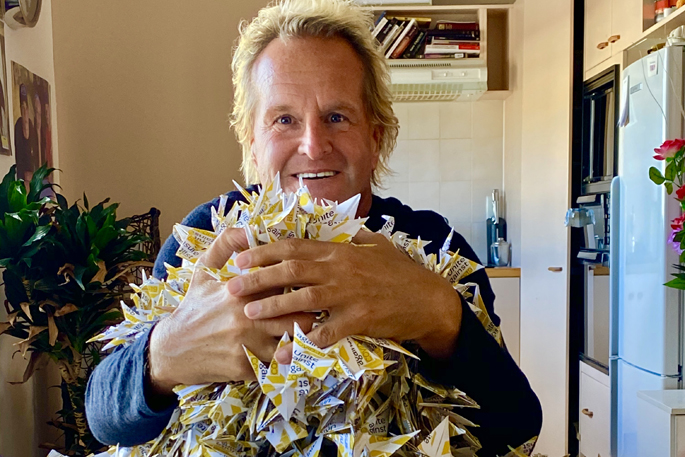 Chris Wilton-Jones, known by his friends as 'Doc', has made more than 40,000 paper folds during the Alert Level 4 national lockdown period. He now has more than 1200 origami cranes piling up high in his 'bubble' at the Mount.
"It started because I wondered what's something I can do during my downtime," says Chris who wanted to keep himself busy during lockdown. "I thought I'd try and make one of those cranes."
He found it quite therapeutic.
"A friend taught me about nine years ago. After making one again I realised that I quite enjoyed it."
He made the first crane out of paper and then looked around his house to see what else he could use.
"I found more paper, custard boxes and chocolate wrappers. Then I opened my letterbox and found the Council's COVID flyer had arrived."
He turned the double-sided A4 flyer into his first 'COVID' crane. After scanning a flyer into his computer Chris started printing them out, deciding to make one COVID crane for every Kiwi who contracted COVID-19. Alert Level 4 lockdown had not yet begun, so he gave away his first cranes to children around his neighbourhood.
"I told them what they represented and they loved it. One person took his home and put it on his shelf. "He says every time he sees it, it makes him smile.
"I thought that was awesome," says Chris.
He started making more, giving them away.
"And then all of a sudden, the real two-meter distance kicked in. No one would come close to me to receive one, so I had to stop giving them out."
As he followed the growing number of cases nation-wide, he kept making more COVID cranes, piling them up in his window box.
Chris says that according to Japanese tradition, folding 1000 paper cranes gives a chance to make one special wish come true.
"They also represent peace, hope, joy and love. And a lot of couples getting married fold 1000 cranes for their wedding ceremony to wish themselves good luck."
In some variations of the Japanese tradition, people may be granted happiness, eternal good luck and a long life or recovery from illness or injury.
"Origami is very therapeutic," says Chris who has also made tiny cranes smaller than his watch face. "There are 30 folds in a crane. If I fold 1400 cranes, that's more than 40,000 folds."
He discovered every piece of paper is different, none is the same.
"I never get exactly the same folds."
Chris has made a Youtube video demonstrating how to make the COVID cranes, has uploaded many examples to social media with the hashtag #covidcrane and also shown a local college teacher how to make them so he can teach his students,
"If anyone else wants to make COVID cranes because of what they represent, I'd love to print out a whole lot of paper and drop them off to them to make them."
At the time of writing, there have been more than 1400 confirmed and probable cases of COVID-19 in NZ and 19 Kiwis have died.
"I'd love to see a monument made like a COVID crane as a remembrance," says Chris. "Or a stick pin like a poppy."
More on The Weekend Sun...