Meet 'The Makers'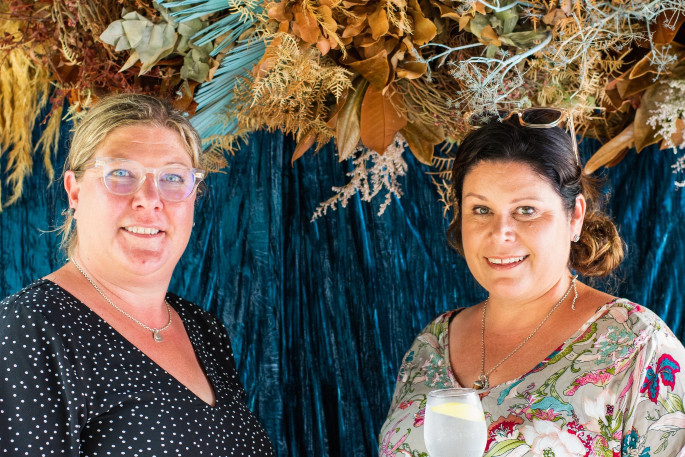 If you enjoy sipping a fine craft gin or watching a classic movie under the stars, project and event specialists Amy Kemeys and Becks Clarke are the pair who will make it happen.
Known as 'The Makers', the Tauranga women are the driving force behind the annual boutique festival, Gincredible, and the ever-popular Night Owl Cinema.
"Seeing people enjoying what we have put on motivates us," Amy explains. "Events are such a simple yet effective means to make people happy."
Amy, 42, and Becks, 47, launched The Makers in 2019 to produce some new events crafted in a bespoke way to celebrate the people of Tauranga and our stunning region. Together, they have 25 years' experience developing and delivering events and projects. Their inaugural gin festival, Gincredible, was an instant hit.
About 1500 people flocked to the Village Green at Tauranga's Historic Village to sample products from artisan gin distillers and attend master classes during the three-day festival, and this year's event saw an increase in both exhibitors and attendees.
"We believe that gathering together – whether it be at an event, festival or celebration – is vital for building strong connections. This is what unites us and keeps us connected to our roots, our culture and our values," Becks says.
Late last year the opportunity arose to buy the existing Night Owl Cinema brand and the pair jumped at the chance. They now plan to increase the size, scope and offering of Night Owl Cinema in the future.
COVID-19 has, of course, changed everything for the events industry.
"As event managers we have to be flexible to deliver events that will adhere to the guidance from the Government. For us people's safety and comfort come first, and we will adapt our business in a way that we always approach something. That is, we want to create event experiences that we ourselves would want to attend."
Thankfully, The Makers' flexibility and can-do attitude means we can all look forward to large events, mass gatherings and plenty of fun ahead in the years to come.
More on The Weekend Sun...