Secret cave warms up winter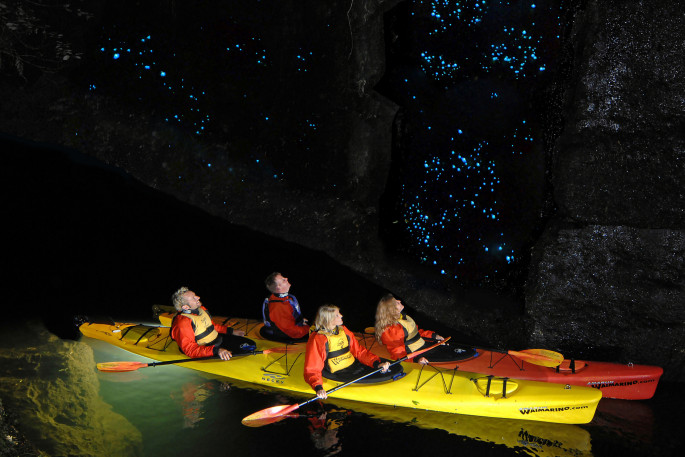 We have incredible natural attractions here in the Bay of Plenty but there's one secret spot that few locals have ever experienced.
Mangapapa Canyon, in McLaren Falls Park, is brimming with glow worms and is only accessible by kayak.
Waimarino has run an evening glow worm kayak tour for the past 16 years, drawing international tourists to the Bay for this one attraction alone.
And with our borders closed, now is the best time for locals to see first-hand what all the fuss is about.
Your three-hour-plus adventure will begin late afternoon with a picnic of fine New Zealand wines and cheeses on the shores of Lake McLaren.
Waimarino's owner, Blair Anderson, is a keen hunter so locally-made venison salami is served, along with orange juice, chips and dip. There's nothing more peaceful than watching the sun go down with a glass of warm mulled wine in your hands.
Don't be put off by the cooler weather. This tour runs rain or shine and Waimarino provides warm fleece jerseys, waterproof rain jackets (with hoods), life jackets and 'skirts' that will seal you into your kayak and keep you from getting wet. Mittens are also attached to your paddle to keep you snug and warm.
The 1.5km journey to the canyon takes around 30 minutes – during which time, the sun completely sets. It's a surreal feeling to paddle along in the dark and the surrounding water transforms into black ink as stars appear in the night sky above.
The Mangapapa Canyon's dark, sheltered, damp conditions provide the perfect home for glow worms. In fact, this is one of the most densely populated glow worm spots anywhere in New Zealand.
Thousands of them cling to the side of steep cliffs which rise up on either side of this narrow canyon. One tiny spot of blue-green light soon gives way to thousands as you gently float along. It's a sight you'll never forget.
Waimarino also offers a 'Big Kanu' tour where you'll ride in an 18 or 14 seater canoe instead of double kayaks. Visit: www.glowwormkayaking.com for more information.
More on The Weekend Sun...