Tauranga store takes down Confederate flag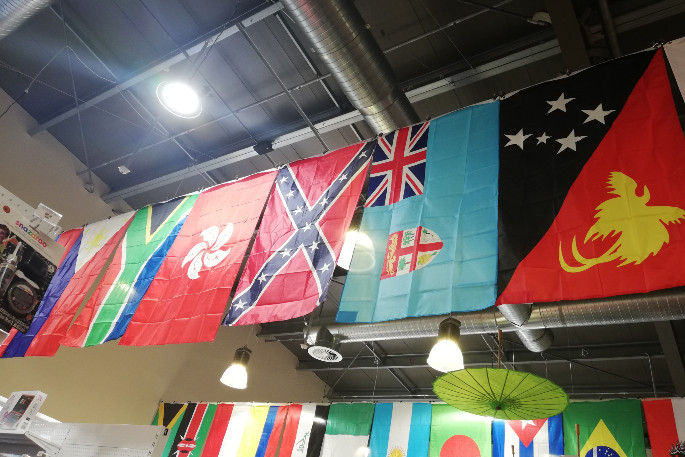 A Tauranga home goods store has stopped selling the Confederate flag after receiving complaints about what it represents.
The flag was removed from AJ's Emporium last week, but previously the store had sold the item for the past ten years.
Tauranga women Yasmin says she complained because the flag is an "absolutely foul symbol of racism and white supremacy".
The Rotorua Stockcar Club recently announced it would no longer fly the Confederate flag after drawing criticism from Race Relations Commissioner Meng Foon.
AJ's director Ange Dunn told The Weekend Sun she doesn't believe the flag is a symbol of racism.
She says the store sells a variety of flags including country flags, rainbow flags and the Maori flag.
"I am sure we all have something in our lives that offense others but I thought we lived in a democratic world.
"We sell a large variety of flags which if you think about it some people would be offended by - the German flag would offend Jews."
She says the Tauranga store has more than 2000 customers each week and they have only received two complaints about the flag over the past ten years.
Yasmin, who first complained alongside her partner in-store on July 21, says it was a struggle to have the flag taken down at AJ's Emporium.
After AJ's staff members declined her initial request, she followed up with Fraser Cove Management and then property management company Silverfin.
Yasmin says she was "angry and disheartened" when staff refused to remove the flag initially.
"Being told that the Confederate flag means different things to different people just doesn't cut it. There is only one explanation for that flag."
AJ's Emporium in Rotorua has run out of stock of the confederate flag, Ange says.
She wouldn't confirm whether or not they plan to order in more stock.
Fraser Cove asset manager Marie Mischewski says they have no control over AJ's Emporium as the building is managed by Silverfin.
However, after receiving complaints she passed them over to the property manager.
"Eventually I got hold of Silverfin and told them this is something for them to sort - which they have."
Silverfin would not say whether they asked AJ's to stop selling the Confederate flag. However, a staff member says they were made aware of complaints.
A spokesperson for the Human Right's Commission says AJ's Emporirum should consider whether they want to continue stocking the Confederate Flag.
"People have the right to freedom of expression. However, it is important for people to be thoughtful about how they express themselves or what symbols they choose to associate themselves with.
"Around the world there is a public debate about racism represented by historical symbols and monuments. The Confederate flag is politically loaded and has been known to be used by white supremacist groups."
Both NASCAR and the state of Mississippi have decided to stop using the Confederate flag since the death of George Floyd, as has the Rotorua Stockcar club, says the spokesperson.
More on The Weekend Sun...