From Kupe to 2020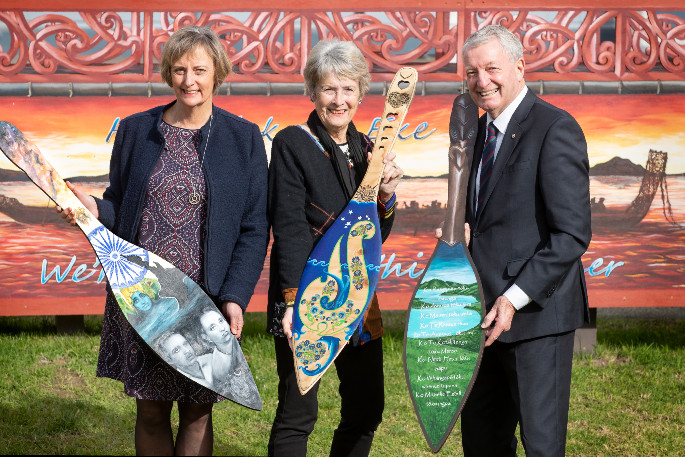 Powerful and poignant stories of how people arrived in Tauranga from generations ago until now are being showcased in a visual exhibition launching this coming Thursday.
The 'This is Us – he waka eke noa' project began in June with the unveiling of a beautifully painted seven-metre-long waka at the Historic Village, representing not only the first journey over water by Kupe and early Maori settlers, but a journey that each immigrant has made when moving to New Zealand.
While the culmination of the project is the August art exhibition, the purpose is to encourage connection, understanding and unity through the sharing of stories about the peopling of the Bay of Plenty.
"'This is Us – he waka eke noa' is a collaborative project between Tauranga Rotary Sunrise club and The Incubator," says Tauranga Rotary Sunrise club president Rhonda Wisbey.
"Our aim is to give a voice and greater understanding to all cultures in Tauranga through the sharing of personal journeys."
During July, workshops were held where participants shared stories of how they or their ancestors came to New Zealand. These workshops were designed to encourage tolerance for other cultures that make up Tauranga's diverse community. The catalyst for this was following the Christchurch terrorist attack, when the Tauranga Rotary Sunrise club held a meeting to discuss a response that was positive, practical and would build community.
"Many of you would have probably felt the same, those first few days after it happened," says Rotarian Les Geraghty, who took part in the workshops.
"People didn't know where to turn to or what to do. At our Rotary club we decided that we needed to do something and have somewhere for people to go to. Somewhere we could learn and understand."
Attendees at the workshops related their personal stories and shared their own vision for Tauranga.
Each participant was also invited to decorate a hoe - waka paddle.
The concept of 'This is us - he waka eke noa', - people pulling together, also coincidentally matches Rotary's theme for this year of 'Rotary connects the world'.
The exhibition featuring the decorated hoe will be launched at The Incubator on Thursday, August 27, at 5pm and will run until Saturday, September 26.
More on The Weekend Sun...