Art has been set free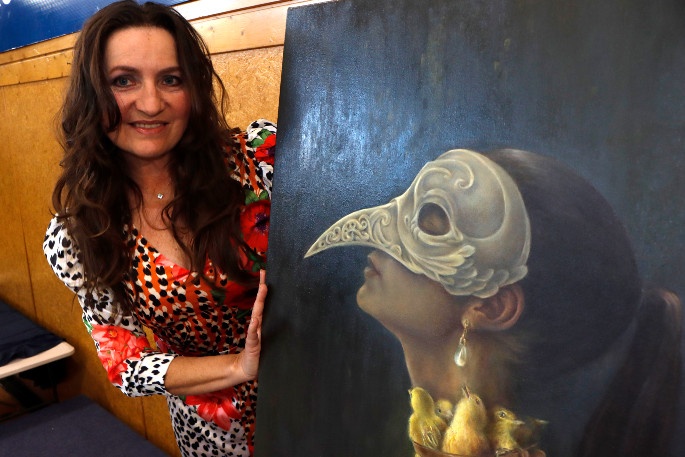 Seventy artists unleashed more than 400 original works on the public this week as the Tauranga Society of Artists finally got to hold its big event, originally scheduled to be held in April.
Bubbles, beer and canapes flowed before the merit awards, runner up and winner of The Trustpower Supreme Art Award were announced.
Society president Debbie Clarke says they were expecting to be holding an online exhibition at one point so the 408 artworks produced reflected a lot of effort from their members.
The exhibition runs all weekend and all works are for sale, including a new section dedicated to 'Tiny Art'.
The event was opened by Mayor Tenby Powell on Wednesday night. He admired everyone who had put their art on display, in what was the largest original art exhibition in the Bay.
The Supreme Award winner is Natalya Doudell and runner up Trish Holmes. Brendon O'Farrell, Christie Cramer, Juliana Park, Rae Waterhouse and Debbie Clarke all received merits.
Judge Nicol Sanders-O'shea is an award-winning printmaker and programme co-ordinator of the Bachelor of Creative Industries Degree at Toi Ohomai.
She says Natalya's work "screams of environmental concerns", was skilfully painted and showed a "skilful command of the medium".
The winning piece is called 'Longing' and depicts a woman in a bird mask, with a body made of bees and a collar around a neck of birds.
Natalya told the Weekend Sun that many people did not get the symbolism in the painting but the judge "got it exactly".
She says it took a very long time to paint.
"The idea was about overconsuming. Our environment takes a hard impact from overcrowding."
All artworks are on display, on Saturday and Sunday, at the Tauranga Boys College Gymnasium on the corner of 14th Ave and Devonport Rd.
More on The Weekend Sun...