Papamoa Cenotaph landscaping nearing completion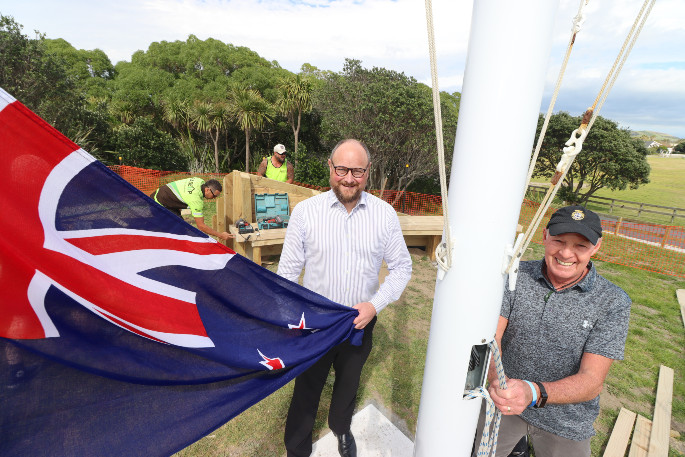 The Papamoa Cenotaph has been having the final elements of a wall, seating and landscaping installed this week, thanks to the generosity of many locals.
"The last part of the landscaping design is a World War 1 type trench," says Michael O'Carroll.
"There will be seating on the front part of the wall so local folk can go up to the memorial, sit down and spend time to reflect and remember our current servicemen and women and also our veterans and fallen heroes."
The main sponsors for the wall and seating have been Robyn and Peter Whale from Spray Technologies Ltd, Bruce and Donna Crosby from Papamoa Beach Resort, and Baseup, with Tom Cullen and Jason Muir from BaseUp designing the seating plan.
The landscaping includes a concrete base, mowing strip with topsoil and planting at the back of the wall.
"It's been a long journey with Michael O'Carroll over the past couple of years," says Mount/Papamoa ward councillor Steve Morris.
"We've raised more than $50,000 in cash and in kind for the cenotaph, flagstaff, and now landscaping.
"It's a place Papamoa can be proud of and I hope, honours our fallen heroes in a way they'd approve of. "Farmer Motor Group didn't need much convincing to generously donate the $20,000 flagstaff."
Steve says what once was a gravel pit has now become "a beautifully landscaped memorial overlooking the Pacific".
"It's humbling to think of the generosity of our community but it's not surprising. This is the same community that mobilised 8000 volunteers to make our beach pristine again after the Rena Oil spill nine years ago this month.
"Now this is complete I'm twisting Mick's arm into another local project that Papamoans can hopefully be proud of."
More on The Weekend Sun...