The heartbreaking experience of losing a baby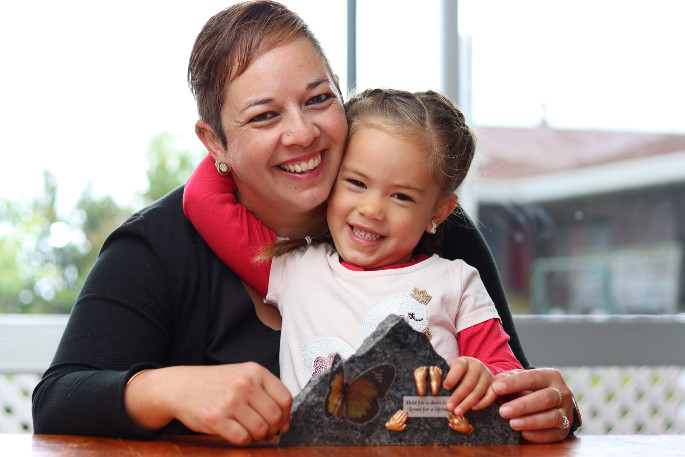 A Tauranga mum says the pain of losing two babies never goes away.
But Belinda Roddick has found sharing her story aids healing and helps raise awareness for a topic that is rarely spoken about.
Belinda suffered a miscarriage when she was 14 weeks pregnant back in 2008. And then five years later at 21 weeks pregnant, she gave birth to her still stillborn baby named Sarah.
She describes the experience of giving birth to a stillborn as "heart breaking".
"Our two boys Dylan and TK, who would have been 4 and 6, knew what was going on.
"I remember sitting by the fireplace, we had just been told there was no heartbeat after the pregnancy scan. My kids walked through the door and burst into tears."
Belinda, who recently joined forces with Baby Loss New Zealand, has organised the 'Bubble Walk' in Tauranga for people to come together and remember babies lost during pregnancy, at birth or infancy.
The event is about remembering, connecting and reminding those who have lost a baby that it is important to reach out for help, she says.
"People aren't comfortable about speaking out about losing babies.
"It's hard because you just kind of keep it in. But you can only bottle up for so long and then you have to let it out.
"You would be amazed at how many people have been through the same thing but don't talk about it," she says.
Talking with her family about the loss of her two babies has helped them all heal, she says.
"My children talk about their sisters Sarah and Skye a lot because they feel like they are still part of our family. It's nice to be able to remember and talk about things."
After Belinda gave birth to Sarah, she took the baby home and the family spent time with her for about three days.
"We just opened our home so people could come and visit, talk to us and spend time with us and Sarah.
"It did freak out a few people who came to give their condolences, but then they realised it was nice to celebrate Sarah's life.
The family then sought support from Baby Loss New Zealand general manager Sarah Numan.
"She actually helped me hold Sarah because I didn't know you could hold a baby that small. She was only 270grams."
"We took family photos and made hand and feet prints with ink. She made moulds and gave us a care basket." Belinda says she still thinks back to this "amazing experience" often.
Organising Saturday's event is her way of giving back to the organisation, she says.
The Bubble Walk to Remember will see family members take a walk around Memorial Park, write messages, share memories and blow bubbles.
Belinda hopes this event will remind families who are grieving a lost baby that support is all around them.
"The pain of losing a baby doesn't go away, but for me, it is an opportunity to help someone else going through the same thing," she says.
The event is set to take place on Saturday, October 17, at Memorial Park. It will start at 9.30am and members of the public are welcome to attend.
For more information click here.
More on The Weekend Sun...